アリ地獄天国 「Ari Jigoku Tengoku」
Release Date: June 06th, 2019 (USA)
Duration: 98 mins.
Director: Tokachi Tsuchiya
Writer: Motoharu Iida, Tokachi Tsuchiya (Script)
Starring:Yu Nishimura, Tokachi Tsuchiya, Naoko Shimizu, Kotaro Kano (Narration)
In 2017, the Japanese word karoshi, death from overwork, entered the global lexicon when news organisations covered the case of advertising firm Dentsu which was fined by a Tokyo court for violation of labour laws following the suicide of an overworked employee named Matsuri Takahashi who had been clocking up 100 hours a month in overtime prior to her death. Her story came out around the same time as the one of NHK journalist Miwa Sado who died two years earlier after she logged 159 hours of overtime in a month. Analysts, public health experts and cultural commentators published articles stating that they are just the tip of the iceberg.
Although karoshi is a term that has been around since the 70s, the unhealthy work culture that results in depression, suicides or strokes amongst workers has been identified as being linked to the post-war economic miracle when employees were asked to dedicate their lives to their jobs. However, in the 90s after the economic bubble burst, things worsened as worker protections were sacrificed on the altar of free market capitalism and people were chewed up by their employers. In response to this, and a falling birth rate, the government has introduced measures to give employees more time off work. Things have yet to get better.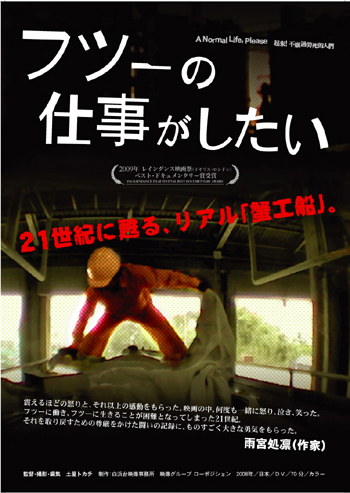 One filmmaker who has been tracking stories of everyday people being sacrificed for the economy is Tokachi Tsuchiya who started out as a freelance videographer and became a documentary filmmaker with his award-winning debut A Normal Life, Please! (2009) where he exposed the exploitation of workers through an average truck driver named Nobukazu Kaikura who was made to work by his company "552 hours a month without benefits or sick pay, a regime that barely affords him time to wash or eat" (source). The film covered Kaikura's decision to join a worker's union and the unsavoury characters hired by his company who tried to crush the workers who were simply defending their rights.
Since then, Tokachi has worked for an NPO making films about capitalist exploitation and state oppression while also doing "making-of" videos for Momoko Ando's 0.5mm and Gen Takahashi's Court of Zeus. With An Ant Strikes Back, he is back with a story of a worker who fought for years for better treatment at his job after horrendous exploitation and mistreatment and it is a shocking eye-opening insight into unfair labour practices in Japan and how unions protect workers.
An Ant Strikes Back starts with a prologue that introduces some sobering facts about karoshi before introducing the director to viewers and here he relates how his friend "Yama-chan" was a victim a number of years before. We understand that his perspective will be a factor in understanding karoshi. Then we are introduced to the worker "ant" at the heart of the film, Yu Nishimura.
Continue reading "An Ant Strikes Back アリ地獄天国 Dir: Tokachi Tsuchiya (2019) [Nippon Connection 2020]" →