The full programme for the 2022 edition of the Busan International Film Festival is out and there are, as usual, a lot of Japanese films. The most exciting thing is the spotlight being shone on new talents.
Here's the line-up:
Closing Film
ある男 「Aru Otoko」
Release Date: November 18th, 2022
Duration: 121 mins.
Director: Kei Ishikawa
Writer: Kosuke Mukai (Script), Keiichiro Hirano (Original Novel),
Starring: Satoshi Tsumabuki, Sakura Ando, Masataka Kubota, Nana Seino, Akira Emoto, Yuumi Kawai, Yoko Maki, Miyako Yamaguchi,
Director Kei Ishikawa re-unites with two forces behind his critically acclaimed crime drama Gukoroku – Traces of Sin (2016), writer Kosuke Mukai and actor Satoshi Tsumabuki (Rage, Villain) and pairs the latter up with Sakura Ando (Shoplifters, 100 Yen Love) and throws in Masataka Kubota (First Love). Great cast, but what about the film???
Synopsis: Akira Kido (Tsumabuki) is a troubled lawyer who is hired by a former client named Rie (Sakura Ando) to look into the background of her late husband Daisuke (Masataka Kubota). Rie is concerned that a man had assumed Daisuke's identity before marrying Rie. Her concerns have come about because, during his funeral, Daisuke's estranged brother showed up only to dispute the identity of the person in the funeral photo. During Kido's investigations, revelations occur!
---
Wide Angle – Asian Short Film Competition
Release Date: November 18th, 2022
Duration: 25 mins.
Director: Shun Ujita
Writer: N/A
Starring: Masaya Sakima, Shun Ujita, Yu Ujita, Yuki Kojima, Keigo Shimizu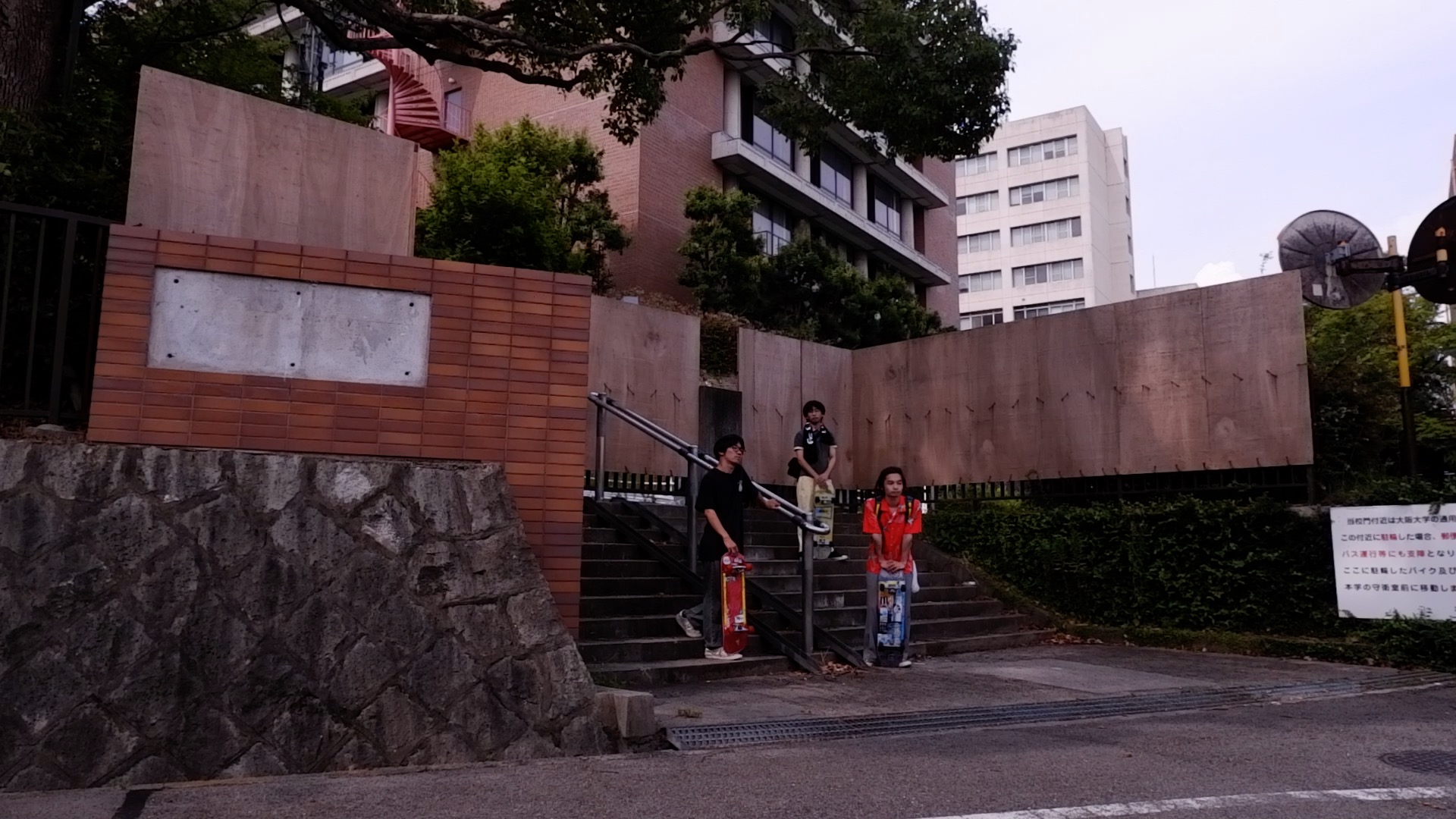 Synopsis: Three friends gather at a university campus shut due to Covid-19 precautions and record their skateboarding in an effort to preserve their youth.
---
New Currents
Thousand and One Nights   
千夜、一夜 「Chiya, Ichiya」
Release Date: October 18th, 2022
Duration: 126 mins.
Director: Nao Kubota
Writer: Kenji Aoki (Script), 
Starring: Yuko Tanaka, Machiko Ono, Dankan, Masanobu Ando, Yoji Tanaka,
Director Nao Kubota usually makes documentaries but has turned to fiction for this feature which is based on the "missing persons list." 
Synopsis: Tomiko is a middle-aged woman who lives in a beautiful but declining fishing village on a remote island in the north of Japan. She has been waiting for her husband to return after he suddenly disappeared 30 years ago. A fisherman named Haruo pines for her. Then, Tomiko meets Nami, whose husband Yoji disappeared two years ago. The younger woman wants to move on with her life, something that stands in contrast to Tomiko whose life has been at a standstill. And then Tomiko sees Yoji…
Release Date: N/A
Duration: 99 mins.
Director: Anshul Chauhan
Writer: Rand Colter, Mina Moteki, Anshul Chauhan (Script), Keiichiro Hirano (Original Novel),
Starring: Shogen, Megumi, Ryo Matsuura, Shingo Fujimori, Toru Kizu, Takuzo Shimizu, Miki Maya
Anshul Chauhan is amazing. Originally from India, he makes his way to Japan to work in the animation industry then makes live-action shorts before making his debut Bad Poetry Tokyo (2017) and following that up with Kontora (2020), both award winners. I have interviewed him twice, once for Bad Poetry Tokyo and the second time for Kontora and at the end of the second interview asked him how he is productive and he said, "just sit down and write." 
The shoot for this particular film started in February of this year, according to this article, and it is about to be unveiled at Busan. It's a courtroom drama/marriage story.
You can find another clip on Anshul's Twitter account.
Synopsis: A couple whose marriage broke up due to death of their high school-aged daughter are brought back together again to fight against the reduction in the prison sentence of her killer. After separating, the father and the mother have taken radically different paths in life but their tragedy unites them one more time as they as they confront the murderer and hear her out, thus setting in motion a path of redemption for the people involved. 
---
A Window on Asian Cinema
Release Date: September 09th, 2022
Duration: 123 mins.
Director: Koji Fukada
Writer: Koji Fukada (Script), 
Starring: Fumino Kimura, Kento Nagayama, Atom Sunada, Hirona Yamasaki, Tomorowo Taguchi, Natsume Mito,
Koji Fukada is one of Japan's leading directors. Heavily inspired by French New Wave films, he makes the kind of mature cinema that Japan desperately needs with romances touched with a bit of wry comedy and mysteries. He is also willing to experiment and address themes of xenophobia, sexism, and ageism.
He has a number of awards to his name, including the Best Picture Award in the Japanese Eyes competition of the Tokyo International Film Festival for Hospitalité (2010), the Grand Prize at the Three Continents Festival for Au revoir l'ete (2013) and the Jury Prize in the Un Certain Regard section of the Cannes Film Festival for Harmonium (2016).
I've covered many of Koji Fukada's films on this blog and you can find a list of reviews here.
His latest stars Fumino Kimura (The Fable and its sequel), Kento Nagayama (Crime or Punishment?!?), deaf actor and sign language expression model Atom Sunada., Hirona Yamasaki (Hanagatami), and Tomorowo Taguchi (Tetsuo, the Iron Man). Fukada was apparently inspired to write the story for this film by the Akiko Yano song Love Life.
The film is currently at Venice and will be released at the end of this week in Japan. Reviews from Venice have been published by The Hollywood Reporter and Screen International. Here's the trailer:
Synopsis: Taeko (Fumino Kimura) lives peacefully and happily with her husband, Jiro (Kento Nagayama), and her son Keita, despite the tempestuous way that they met and the disapproval of Jiro's father. One day, the couple are hit by a sad event. As Taeko experiences grief, her former husband (Atom Sunada) and Keita's father returns. Meanwhile, Jiro reconnects with a woman (Hirona Yamasaki) he used to date. How do this couple work through their difficulties and what does it mean to love?
Release Date: June 17th, 2022 (Japan)
Duration: 112 mins.
Director: Chie Hayakawa
Writer: Chie Hayakawa, Jason Gray (Script),
Starring: Chieko Baisho, Hayato Isomura, Taka Takao, Yumi Kawai, Stefanie Arianne
Chie Hayakawa graduates from award-winning shorts to making her feature debut with Plan 75, an expansion of her story in the anthology film Ten Years Japan. It won the Camera d'Or at the 2022 Cannes Film Festival.
The film is led by veteran actress Chieko Baisho (Tora-san's sister in the long-running Tora-san series) and rising star Hayato Isomura (Tokyo Revengers).
It was announced last week that this will be Japan's submission for the Best International Feature Film category for the 2023 Academy Awards (source). It has been experiencing success in Japan with critical acclaim and a long run in mini theatres.
Synopsis: In a future Japan where the birthrate has continued to decline and the number of older people is bigger than ever, the government has created a programme called Plan 75. This system gives senior citizens the chance to be voluntarily euthanised from the age of 75. Despite initial controversy, it has been accepted by the public. Michi Kakutani (Chieko Baisho), a 78-year-old woman who has been living alone since the death of her husband, is struggling to survive but when she is laid off from her job as a hotel cleaner, she begins to consider applying for "Plan 75. Meanwhile, Hiromu (Hayato Isomura), a city official responsible for handling Plan 75 cases, and Yoko (Yumi Kawai), a call centre operator who supports elderly people who have chosen to die until their day comes, begin to question the nature of the "Plan 75" system. 
---
New Currents
---
Open Cinema
Even if This Love Disappears from the World Tonight 
今夜、世界からこの恋が消えても 「Konya, Sekai kara kono Koi ga Kietemo」
Release Date: July 29th, 2022
Duration: 121 mins.
Director: Takahiro Miki
Writer: Hana Matsumoto, Sho Tsukikawa (Script), Misaki Ichijo (Original Novel),
Starring: Shunsuke Michieda, Riko Fukumoto, Kotone Furukawa, Koki Maeda, Maki Mizuno, Maho Nonami, Honoka Matsumoto,
Synopsis: When Toru Kamiya is forced by classmates to make a false confession of affection for Maori Hino, he little expected for her to accept it on the basis that they date but don't fall in love. Even more surprising is that he does genuinely fall in love. However, following a confession of love, Maori reveals she suffers from amnesia and can only remember what has happened to her because of a diary she keeps. Knowing this, Toru resolves to make each day a happy one for Maori… 
キングダム2 遥かなる大地へ  「Kingudamu 2 Haru Kanaru Daichi e」
Running Time: 134 mins.
Release Date: July 15th, 2022
Director: Shinsuke Sato
Writer: Tsutomu Kuroiwa (Screenplay), Yasuhisa Hara (Manga/Screenplay)
Starring: Kento Yamazaki, Ryo Yoshizawa, Nana Seino, Kanna Hashimoto, Amane Okayama, Etsushi Toyokawa, Hiroshi Tamaki, Takao Osawa, Koichi Sato, Kiyohiko Shibukawa, 
Shinsuke Sato is an action movie director who you may have heard of thanks to live-action versions of multiple manga like Gantz, I Am a Hero, and Inuyashiki. He tackles a historical epic with the Kingdom franchise which is set in Qin Dynasty China during the warring states period. 
Synopsis: Where the central protag, Shin (Kento Yamazaki), a war orphan, meets a young king named Eisei (Ryo Yoshizawa) and gets involved with the man's plan to unify all of China after being ousted from his throne by his brother's coup d'etat. Shin succeeds in regaining Eisei's throne but not even six months pass when the neighbouring Wei Dynasty begins its invasion of Qin…
---
Special Program in Focus Ⅰ – Discovering New Japanese Cinema
由宇子の天秤 「Yuuko no Tenbin」
Release Date: September 17th, 2021
Duration: 137 mins.
Director: Yujiro Harumoto
Writer: Yujiro Harumoto (Script), 
Starring: Kumi Takiuchi, Yumi Kawai, Ken Mitsuishi, Yota Kawase, Masahiro Umeda, Yuuya Matsuura, Misa Wada, Ryo Ikeda, Hiroki Kono, 
Yujiro Harumoto made waves with his feature debut Going the Distance. He has a great cast of actors for his latest, a social drama as seen through the eyes of a documentarian played by Kumi Takiuchi (Greatful Dead), an actress who is really coming into her own in recent years with her performances in Kamata Prelude and It Feels So Good. This has previously played at last year's Busan International Film Festival and also Tokyo FILMeX and it has won awards. I watched it as part of the New York Asian Film Festival 2021.
Synopsis: Yuko (Kumi Takiuchi) is a documentary filmmaker determined to examine a case of a double-suicide involving a teacher and a student who were subject to rumours of an improper relationship. It is a hard programme to make as she aims to get a balanced view of the truth. However a scandal involving her father (Ken Mitsuishi) and a student at his cram school threatens her career, their livelihoods, and her sense of justice. She is faced with a tough situation…
Antonym Film Poster
螺旋銀河「Rasen Ginga」
Release Date: September 26th, 2015
Running Time: 73 mins.
Director: Natsuka Kusano
Writer: Natsuka Kusano, Tomoyuki Takahashi (Screenplay),
Starring: Yuri Ishizaka, Asami Shibuya, Kuniaki Nakamura, Tetsu Onji, Seitaro Ishibashi, Mihoko Watanabe,
This is a female driven film with a lady directing and co-writing the film and ladies taking the lead in this drama about two women working on a radio play. They become "frenemies" which is a genre that Japanese women have taken over.
Having seen it, I found it quite touching, especially with the introduction of the shyer character and seeing her routines. Natsuko Kusano would go on to make the more experimental film Domains, which is a revelation of performances born from constant repetition.
Synopsis: Aya is beautiful but self-centred woman who has few friends. While she works in an office her dream is to be a scriptwriter and she attends night school to learn the craft. Her hard work pays off when a radio programme selects her script but there's one condition: Aya needs to have a co-writer. So close to her dream, Aya thinks hard and selects Sachiko to be the second person. Aya believes Sachiko has a quiet and modest personality but things go awry when Sachiko starts acting and dressing like Aya…
ひかりの歌 「Hikari no uta」
Running Time: 153 mins.
Release Date: October 26th, 2017 (TIFF)
Director:  Kyoshi Sugita
Writer: Kyoshi Sugita (Screenplay)
Starring: Akie Namiki, Misaki Kitamura, Tomo Kasajima, Kana Ito, Keisuke Hidaka, Hiromasa Hirosue, Takenori Kaneko, Masaru Matsumoto, Leow Puay Tin,
This work is the second feature directed by Kyoshi Sugita, following A Song I Remember., an absolute stunner of a drama. He has since made Haruhara-san's Recorder, a film which has earned a lot of praise.
Synopsis: The film finds its structure from  four tanka poems selected from 1,200 submissions to a contest where the theme was "light." The four films have female protagonists who live each day with untold feelings inside. Unable to forget a colleague on a trip, a father who is ill, a friend who works at a store that is about to close, and a long-lost husband, each woman takes a step forward. There is a light that sometimes embraces them, calmly and gently.
マイスモールランド 「Mai Sumo-ru Rando」
Release Date: May, 2022
Duration: 114 mins.
Director: Ema Kawawada
Writer: Ema Kawawada (Script), 
Starring: Lina Arashi, Daiken Okudaira
This one played at this years Berlinale. Using the festival synopsis, we can discover that it is the commercial feature directorial debut for Emma Kawawada, who is part of the Bun-Buku production company headed by Kore-eda Hirokazu and has worked with him as his assistant director. Here's an interview with her and lead actor Lina Arashi.
Synopsis: Sarya has lived in Japan since she was five and while she pretends to be German, the reality is that her family are Kurds from Turkey who are hoping to secure a refugee visa. As they wait, life seems to be stable as Sarya is aiming to go to college and her father works but even then she has to look after her younger siblings while he is away. Just as Sarya sets her sights on college and her work colleague Sota takes an interest in her, they get news that their asylum application has been rejected and so Sarya's life is turned upside down… 
わたしたちの家 「Watashitachi no ie」
Running Time: 80 mins.
Release Date: January 13th, 2018
Director:  Yui Kiyohara
Writer: Yui Kiyohara, Noriko Kato (Screenplay),
Starring: Kazuki Kasai, Yukiko Anno, Mari Ozawa,
This film comes from Yui Kiyohara, a graduate student at the Tokyo National University of the Arts and has studied with Kiyoshi Kurosawa. It took the Grand Prize at the 2017 Pia Film Festival and was at the Tokyo International Film Festival. Her previous film was A Certain Bagatelle (2015).
Synopsis: A mother and her 14-year-old daughter live in an old house in a seaside village. A parallel story involving a woman with amnesia occurs as she slips into the same village and into the same house. The stories of these women who inhabit the same space but whose lives do not seem to intersect at the start of the film unfolds.
Running Time: 100 mins.
Release Date: November 25th, 2017
Director:  Akio Fujimoto
Writer: Akio Fujimoto (Screenplay)
Starring: Kaung Myat Thu, Khin Myat Thu, Issace, Htet Myat Naing, Yuki Kitagawa, Kanji Tsuda,
Fujimoto, a first-time feature film director, worked with non-professional actor and their efforts ensured that this film won the Spirit of Asia Award, given by the Japan Foundation Asia Center at the 2017 Tokyo International Film Festival. I reviewed it when it was part of the Osaka Asian Film Festival and appreciated its realist style and insight into migration in Asia. Fujimoto has since made Bleached Bones Avenue and Along the Sea. Here's my review of Passage of Life.
Synopsis: Passage of Life is based on reality and shows the lives of a Burmese family that emigrated to Japan with no visa. Khin and her husband Issace have an uncertain home with their two boys, 7-year-old Kaung and his younger brother Htet. The boys were raised in Japan and are happy. Their parents are not.
Without the proper paperwork, a secure life is impossible and all hope lies with obtaining political refugee status which seems impossible to get in Japan. However, the stress is too much for Khin who is hospitalised with depression. She decides to take the kids back to Burma which is when the film switches focus to depict the inner struggles of Kaung who struggles with a great change in his environment and longs for the place he calls home: Japan.
岬の兄妹 「Misaki no Kyodai」
Running Time:105 mins.
Release Date: March 01st, 2019
Director:  Shinzo Katayama
Writer: Shinzo Katayama (Screenplay),
Starring: Yuya Matsuura, Misa Wada, Masayasu Kitayama, Yutaro Nakamura, Kenji Iwatani, Takumi Matsuzawa, Tateto Serizawa, Yuki Kazamatsuri,
After leaving school in Osaka, Shinzo Katayama went to Tokyo and learned his craft at a vocational film school before rising up the ranks of film productions like Bong Joon-ho's Mother and Nobuhiro Yamashita's My Back Page and then making his own directorial debut with this film which took a top award at Skip City. He has since made the film Missing (2021), which has earned a lot of plaudits.
Synopsis: Yoshio (Yuya Matsuura) and his sister Mariko (Misa Wada) live on the outskirts of a coastal town. Mariko has a mental disability and often stays at home while Yoshio earns money despite his bad leg. One day, Mariko goes missing, but she turns up later in with pockets stuffed with 10,000 yen bills and it seems like she has been used for sex by an angler. When Yoshio loses his job, he gets the idea to turn his sister into a sex worker.
ケイコ 目を澄ませて 「Keiko, me wo sumasete」
Release Date: December 16th, 2022
Duration: 99 mins.
Director: Sho Miyake
Writer: Sho Miyake, Masaaki Sakai (Script), Keiko Ogasawara (Original Autobiographical Book),
Starring: Yukino Kishii, Tomokazu Miura, Masaki Miura, Shinichiro Matsuura, Himi Sato,
Sho Miyake (Wild Tour, And Your Bird Can Sing) helms this international co-production involving a French company. 
The story of the film was inspired by Keiko Ogasawara's autobiographical book Makenaide!, and it stars Yukino Kishii (Just Only Love), as the boxer, and Tomokazu Miura (Adrift in Tokyo, The Taste of Tea), as her trainer.
It earned great reviews after it played at Berlinale 2022 and programmers point out the beauty of the 16mm image and power of the main character's growth.
Synopsis: Growing up with a hearing impairment, one would expect Keiko to avoid something as challenging as boxing but the club she belongs to became like a second home to her and now she is about to face her third fight. While preparing, she has to confront anxiety and the fact that the gym she spends so much time in will be closing soon. Somehow, she digs deep into herself to find the strength to fight! 
The Night I Swam / La nuit ou j'ai nage    
泳ぎすぎた夜 「Oyogi Sugita Yoru」
Running Time: 79 mins.
Release Date: April 14th, 2018
Director:  Kohei Igarashi, Damien Manivel,
Writer: Ichiro Kusuno (Screenplay), Sui Ishida (Original Manga)
Starring: Takara Kogawa, Keiki Kogawa, Chisato Kogawa, Takashi Kogawa, Yuji Kudo,
This film came about after Kohei Igarashi, who had previously directed the mysterious and melancholy Hold Your Breath Like a Lover, met French director Damien Manivel (A Young Poet, The Park) at Locarno and decided to collaborate. The resulting film was unveiled at the 74th Venice Film Festival in the Orizzonti category back in August and then at Tokyo FILMeX. It charts a magical day in the life of a little boy who takes a detour from school and explores his local area. No dialogue, just the sounds of the world coupled with images that show the young character demonstrating the innocence and curiosity of a child his age.
Synopsis: A fisherman in Tohoku Prefecture must make his way to the market in town very early in the morning. His departure wakes his six-year-old son who finds it impossible to fall back to sleep. Awake and with few distractions, the young boy draws a picture and he then slips into his satchel. On his way to school, still drowsy, he strays off the path and wanders into the snow to deliver the picture to his father.
三度目の、正直 「Mitabime no, Shojiki」
Release Date: January 22nd, 2022
Duration: 112 mins.
Director: Tadashi Nohara
Writer: Tadashi Nohara, Rira Kawamura (Script), 
Starring: Rira Kawamura, Katsuyuki Kobayashi, Hiromi Demura, Chisa Kawamura, Yasunobu Tanabe,
Tadashi Nohara, the man who, along with Ryusuk Hamaguchi, co-wrote the screenplays for Kiyoshi Kurosawa's The Wife of a Spy and Happy Hour, makes his directorial debut with this film.
The staff and cast are made up of people who worked on Happy Hour and it is set in the city of Kobe.
Synopsis: Haru Tsukishima is a nurse in an unhappy relationship with a psychiatrist, Soichiro. She is hit by empty nest syndrome following her step-daughter Ran moving to Canada to study. When she encounters a young man suffering amnesia, she believes that he is a gift from God and wants to raise him herself. Meanwhile, Haru's younger brother, Tsuyoshi, a musician, is raising a four-year-old child with his wife, Mikako, but she is suffering mental anxiety which Soichiro is treating. He falls for her. The feelings of each of them come out in the city of Kobe. 
---
Past coverage: