The Fantasia International Film Festival will be celebrating its 24th edition as a virtual event due to Covid-19. A variety of film screenings, panels and workshops will be accessible to viewers across Canada from August 20th through to September 2nd, 2020. There is a decent Japanese contingent of contemporary films and some recent titles stretching back 10 years.
The festival's full lineup was announced last week. Here are the Japanese titles:
スペシャルアクターズ  「Supesharu Akuta-zu」
Release Date: October 18th, 2019
Duration: 109 mins.
Director: Shinichiro Ueda
Writer: Shinichiro Ueda (Screenplay) 
Starring: Hiroki Kono, Takuya Fuji, Ayu Kitaura, Yosuke Ueda, Yaeko Kiyose,
Shinichiro Ueda, director of One Cut of the Dead, brings his second feature film to the screen…
Synopsis: Kazuto is a timid young guy who prefers to stay indoors to watch the adventures of the psychic hero Rescueman instead of being stressed outside. He had wanted to be an actor but a certain medical condition that causes him to faint at the first sign of stress affects him. Despite this, thanks to his brother, he joins an acting agency where he takes on small roles such as being a stand-in at a funeral. The stakes are raised when he ends up being recruited for a real life drama when a young woman named Yumi asks for help from the Special Actors to save her family's inn from being sold to a brainwashing cult and it turns out that the Special Actors devise a complex plan that depends upon Kazuto…
写真の女「Shashin no Onna」
Release Date: June 27th, 2020
Duration: 89 mins.
Director: Takeshi Kushida
Writer: Takeshi Kushida (Script),
Starring: Hideki Nagai, Itsuki Otaki, Toshiaki Inomata, Toki Koinuma, Takaaki Kikuchi, Keiko Katsukura, Ryo Tsuchida,
Writer/director Takeshi Kushida makes his feature debut with Woman of the Photographs has been wowing people across the world with its pristine and inventive visuals and solid story of love in a time of social media madness.
Here's my interview with the director and my review of the film.
Synopsis: Middle-aged photographer Kai (Hideki Nagai) is committed to living a bachelor's life due to his gynaphobia but when an Instagram model named Kyoko (Itsuki Otani) crashes into his life, an offbeat meet-cute turns into a psycho-romance as her search for social media success draws him into helping her.
Release Date: N/A
Duration: 61 mins.
Director: Jeremy Rubier
Writer: Jeremy Rubier (Script), 
Starring: Nagisa Chauveau, Jai West,
French-born Jeremy Rubier (website) is a talent whose stage is international and he has been featured at Fantasia before in the past. Recently he has been based in Tokyo and this is his latest work which he directed, wrote and edited. The way the film is described sounds pretty atmospheric with names of cinematic luminaries like Jim Jarmusch and Hayao Miyazaki tagged into a road movie where the landscape somehow keys into a woman who seeks to understand a tragedy and herself.
Synopsis: While it has been two years since the death of her twin sister Sayo, Nagisa has been unable to overcome it as she lives with the constant regret of never having replied to a desperate message Sayo sent from Paris asking her to get in touch again. Nagisa, struggling with this emotional weight, prays at a local temple in Tokyo to speak to her sister one last time. The Gods listen and, one night, they send a strange taxi from the afterlife to take her to the world of the dead to reach her sister one last time. 
PROJECT DREAMS – HOW TO BUILD MAZINGER Z'S HANGAR AKA Construction Fantasy Sales Department   
前田建設ファンタジー営業部  「Maeda Kensetsu Fantaji- Eigyoubu」
Release Date: January 31st, 2020
Duration: 115 mins.
Director: Tsutomu Hanabusa
Writer: Makoto Ueda (Script) Maeda Kensetsu Fantaji Eigoubu (Nonfiction Essay)
Starring: Makoto Takasugi, Chikara Honda, Yusuke Kamiji Motodaiki, Yukino Kishii, Jundai Yamada, Taku Suzuki,
Synopsis: This is based on a true story from 2003 in which volunteers inside Maeda Corporation created the Fantasy Sales Department as a public relations project, intended to drum up interest in the construction industry. They used anime and examined just how much it would cost to construct the gigantic buildings that appear in animations like Gundam and Mazinger Z. They  then published their findings on the web and that attracted media attention and this film was made…
三大怪獣グルメ「San dai kaiju gurume」
Release Date: June 06th, 2020
Duration: 84 mins.
Director: Minoru Kawasaki
Writer: Masakazu Migita, Minoru Kawasaki (Script), Minoru Kawasaki (Original Work)
Starring: Keisuke Ueda, Yoshida Ayano Christie, Yuya Asato, Ryo Kinomoto,
Synopsis: Tokyo finds itself under attack from a giant squid, giant octopus, and giant crab. A disgraced chemical expert working at his family's sushi restaurant is hired by a team investigating the monsters since he has the formula for turning things super-big. Naturally big battles occur.
タイトル、拒絶  「Taitoru, kyozetsu」
Release Date: N/A
Duration: 98 mins.
Director: Kana Yamada
Writer: N/A
Starring: Sairi Ito, Yuri Tsunematsu, Reiko Kataoka, Denden, Aimi Satsukawa, Kokoro Morita, War Marui, Aika Yukihira,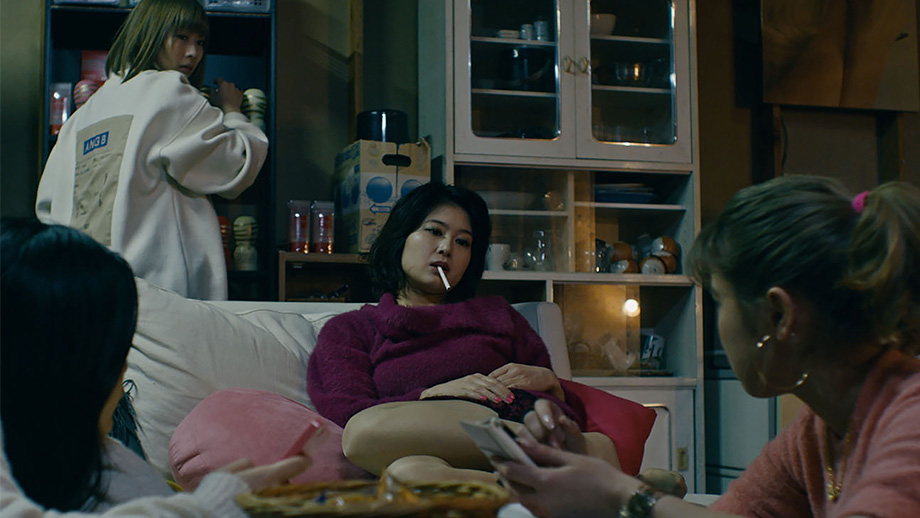 Synopsis: Based on a stage play by the director, this film stars Sairi Ito (Love and Other Cults) as Kanou, one of a number of escorts trying to make it in life. We see their everyday hardships of these young women in what the Japan Cuts fest called an update of the brothel film genre.
狂武蔵 「Kyou Musashi」
Release Date: August 21st, 2020
Duration: 91 mins.
Director: Yuji Shimomura
Writer: Akari Tomori (Script), Sion Sono (Original Draft)
Starring: Tak Sakaguchi, Kento Yamazaki, Akihiko Sai, Yosuke Saito, Nobu Morimoto, Ben Hiura,
This one has been a long time coming. Originally conceived nine years ago and with work put in by Sion Sono, it has finally been brought to life by the crew behind Re:born as a 77-minute no-cut action sequence that brings to life one of the most intense battles Musashi Miyamoto ever too part in. It sounds absolutely bonkers.
Synopsis: In 1604, Musashi Miyamoto (Tak Sakaguchi) had been humiliating swordsmen from a prestigious school for swordsmen, the Yoshioka Dojo. One final duel is prepared but it's a trap since the dojo has got 100 swordsmen loyal to them to show up and they have hired 300 more sellswords. It seems like Musashi is doomed but, before anyone gives the order to kill him, he attacks the 400! 
Labyrinth of Cinema=海辺の映画館 キネマの玉手箱「Labyrinth of Cinema = umibe no eigakan kinema no tamatebako」
Release Date: N/A
Duration: 179 mins.
Director: Nobuhiko Obayashi
Writer: Nobuhiko Obayashi (Screenplay),
Starring: Takuro Atsuki, Takahito Hosoyamada, Yoshihiko Hosoda,
Nobuhiko Obayashi recently passed away but two films involving him are on the festival circuit. Both were at the Tokyo International Film Festival, Rotterdam, Nippon Connection, and Japan Cuts. 
Synopsis: Three young people at a soon-to-be-shuttered cinema are enjoying the final screening: a marathon of old war films. The three become so immersed in the action that they find themselves time-slipping through the screen to various historical events connected to cinema and war such as witnessing death during the Boshin war and on a battlefront in China, being in Hiroshima just before the Aug. 6, 1945, atomic bombing of the city and in the thick of the Battle of Okinawa. This was shot in Obayashi's hometown in Onomichi and has an anti-war message.
ばるぼら  「Barubora」
Release Date: November 2019
Duration: 100 mins.
Director: Macoto Tezuka
Writer: Hisako Kurosawa (Screenplay), Osamu Tezuka (Manga)
Starring: Goro Inagaki, Fumi Nikaido, Kiyohiko Shibukawa, Shizuka Ishibashi, Minami, Eri Watanabe, Moemi Katayama,
Macoto Tezka, son of famous manga-ka Osamu Tezuka, turns his father's novel into a film with Goro Inagaki and top actress Fumi Nikaido taking the lead in the "writer and his muse" story that mixes pink film thrills with weird tales. The cinematography is done by Christopher Doyle and it looks extremely erotic and a little magical. This one is backed by Third Window Films so it will get a great international release. This was made for the 90th Anniversary of Osamu Tezuka's birth.
Synopsis: Osamu Tezuka re-imagines The Tales of Hoffmann which creates a series of meetings wrapped up in lust, forbidden love, the occult, art and all-round weirdness for a famous writer named Yosuke Mikura and a mysterious girl named "Barbara" who he meets in an overpass tunnel. When he takes her home, his life takes a bizarre turn.
劇場版ごん GON, THE LITTLE FOX  「Gekijouban Gon GON, THE LITTLE FOX」
Release Date: February 28th, 2020
Duration: 28 mins.
Director: Takeshi Yashiro
Writer: Takeshi Yashiro, Takaaki Honda (Script), Nakichi Niimi (Original Story)
Starring: Masato Tanaka (Gon), Miyu Irino (Hyojyu)
Production: Tecarat
Synopsis: The worlds of animal and human clash when a playful fox named Gon steals an eel caught by a villager named Hyojyu for his sickly mother. When Hyojyu's mother dies, Gon feels regret and starts leaving gifts for Hyojyu around the village in an attempt to atone for his mistake. I saw this film at last year's Kotatsu Japanese Animation Festival and interviewed the director. It is very beautiful and haunting with lots of natural materials used for the sets and puppets which are carved out of wood.
映画 賭ケグルイ 「Eiga Kakegurui」
Release Date: May 03rd, 2019
Duration: 119 mins.
Director:  Tsutomu Hanabusa
Writer: Minato Takano, Tsutomu Hanabusa (Screenplay), Homura Kawamoto, Toru Naomura (Manga)
Starring: Aoi Morikawa, Minami Hamabe, Mahiro Takasugi, Ruka Matsuda, Natsumi Okamoto, Miki Yanagi, Elaiza Ikeda,
Synopsis: Hyakkaou Private Academy is the battleground for the sons and daughters of the elite to gamble. Money and fame await the winners as does dominance over the losers so it's all high-stakes but then a mysterious transfer student named Yumeko Jabami (Minami Hamabe) arrives at the place and the bets increase to astronomical levels as she reveals that, under her pretty facade, she's a gambling maniac.
Wotakoi: Love is Hard for Otaku   
ヲタクに恋は難しい  「Otaku ni Koi wa Muzukashii」
Release Date: February 07th, 2020
Duration: 114 mins.
Director: Yuichi Fukuda
Writer: Yuichi Fukuda (Script), Fujita (Original Webcomic)
Starring: Mitsuki Takahata, Kento Yamazaki, Nanao, Takumi Saito, Kento Kaku, Tsuyoshi Muro, Jiro Sato,
Mitsuki Takahata was adorable in Destiny: A Tale of Kamakura and she takes the lead in this fun look at otaku romance. Might I suggest watching the anime which is on Amazon.
Synopsis: An office lady named Narumi Momose (Mitsuki Takahata) meets her old childhood friend Hirotaka Nifuji (Kento Yamazaki) at the new company she works for and Hirotaka has blossomed into a handsome and talented guy. However, he is also a video game otaku. That's okay because Narumi is secretly a fujoshi into reading boys' love manga. She can finally reveal her secret side to someone and the two start dating as an otaku couple.
人間失格 太宰治と3人の女たち  「Ningen Shikkaku: Dazai Osamu to 3 Nin no Onnatachi」
Release Date: September 13th, 2019
Duration: 120 mins.
Director: Mika Ninagawa
Writer: Kaeko Hayafune (Screenplay) Yutaka Kono (Novel)
Starring: Shun Oguri, Rie Miyazawa, Erika Sawajiri, Fumi Nikaido, Ryo Narita, Yudai Chiba, Kengo Kora, Tatsuya Fujiwara, Koji Seto,
An all star cast for a raunchy tale about one of the most important figures in Japanese literary history directed by Mika Ninagawa (Sakuran).
Synopsis: Osamu Dazai (Shun Oguri) is one of the most popular authors in Japan and like most writers in the past, he is absorbed with dames and booze. Despite being married he has two lovers and finds it increasingly difficult to balance his life. 
旅猫リポート 「Tabineko Ripo-to」
Release Date: October 26th, 2018
Duration: 118 mins.
Director: Koichiro Miki
Writer:  Hiro Arikawa (Novel and Screenplay), Emiko Hiramatsu (Screenplay)
Starring: Sota Fukushi, Mitsuki Takahata, Yuko Takeuchi, Alice Hirose
The film is okay. Not as good as the book. Sota Fukushi doesn't quite capture the main character and the vignettes aren't given enough time to feel fleshed out but you will still be crying at the end.
Synopsis: Satoru (Sota Fukushi) is a kind-hearted man who has adopted a stray cat named Nana (voiced by Mitsuki Takahata) but since he cannot keep it he has a mission: to find a new owner for Nana. The two travel around and meet various people such as his childhood friends and his first love and Nana begins to understand his owner more.
ミロクローゼ   「Mirokuroze」
Release date:  May 08th, 2011
Duration: 90 mins.
Director: Yoshimasa Ishibashi
Starring: Takayuki Yamada, Anna Ishibashi, Seijun Suzuki, Maiko, Eiji Okuda,
This is a brilliant title that has that Survive Style 5+ outlandishness and colour. Director Yoshimasa Ishibashi has worked on the wonderfully demented Vermilion Pleasure Night and it stars Takayuki Yamada (13 Assassins), this looks like it will be enjoyable and inventive and stands out as one of the more interesting films getting a release this year.
Here's my review.
Synopsis: Milocrorze follows multiple stories told from multiple perspectives which are delivered with different visual styles. These perspectives include a one-eyed ronin from a samurai drama, an unconventional relationship therapist and a man-child at the mercy of a mysterious woman's whims.
空気人形 「Kuuki Ningyou」
Release Date: September 26th, 2009
Duration: 116 mins.
Director: Hirokazu Kore-eda
Writer: Hirokazu Kore-eda (Script), Yoshie Goda (Original Manga)
Starring: Doona Bae, Arata Iura, Itsuji Itao, Joe Odagiri, Sumiko Fuji, Tasuku Emoto, Mari Hayashida, Susumu Terajima, Jyonmyon Pe,
Synopsis: Hideo (Itsuji Itao) is a schlubby middle-aged guy who liveswith an inflatable sex doll he calls Nozomi. He treats her like a lover and even takes her out on walks by placing her in a wheelchair. One day, while Hideo is at work, Nozomi comes to life (played by Bae Doona) and she dons her maid outfit to explore the outside world. This is where she discovers a video store and falls for one of the employees, Junichi (Arata Iura).
福福荘の福ちゃん  「Fukufuku-sou no Fuku-chan」
Release Date: November 08th,  2014
Duration: 111 mins.
Director: Yosuke Fujita
Writer: Yosuke Fujita (Screenplay)
Starring: Yosiyosi Arakawa, Miyuki Oshima, Yuuki Tokunaga, Asami Mizukawa, Takeshi Yamamoto, Kanji Furutachi,
Fine, Totally Fine (2008) is one of my favourite films ever. It is so funny with characters I can relate to so when I was at the Raindance Film Festival a few years ago and I went to see Fuku-chan of FukuFuku Flats, which is by the same director Yosuke Fujita, I was super excited. The film did not disappoint thanks in no small part to a fantastic performance from Miyuki Oshima and some classic songs. Even better is the fact that I got to talk to Yosuke Fujita and tell him how much I loved Fine, Totally Fine. I just wish I asked better questions! Anyway, this is packed with comic stars like Yosiyosi Arakawa who was in Fine, Totally Fine as well as the very funny in the 2014 comedy Judge!. Here's my review.
Synopsis: Tatsuo is a nice guy and has the nickname 'Fuku-Chan'. He lives and works in "FukuFuku Flats", a run-down apartment complex where he paints kites as a hobby. Despite being such a nice fellow he finds it hard to socialise with people and, despite his friend Shimacchi trying to set him up with a girl, he refuses all attempts at romance. This is down to the fact he suffered a prank in junior high school and the reappearance of a girl named Chiho who was at the centre of the prank signals that he may change…
翔んで埼玉 「Tonde Saitama」
Release Date: February 22nd, 2019
Duration: 107 mins.
Director:  Hideki Takeuchi
Writer: Yuichi Tokunaga (Screenplay), Mineo Maya (Manga)
Starring: Fumi Nikaido, Gackt, Yusuke Iseya, Masaki Kyomoto, Kumiko Aso, Haruka Shimazaki, Naoto Takenaka,
Synopsis: Tokyo is where all the beautiful people live and it is run by the father of Momomi Hakuhodo (Fumi Nikaido), a male high school student who looks like a girl. Saitama is where all the peasants live, as we all know, and people from there are persecuted. However, one day, Momomi meets mysterious male transfer student Rei Asami (Gackt) and they fall in love but Asami is from Saitama Prefecture…
HK 変態仮面   「HK Hentai Kamen」
Release Date: April 13th, 2013
Duration: 90 mins.
Director: Yuichi Fukuda
Writer: Yuichi Fukuda, Shun Oguri (Screenplay), Keishu Ando (Original Manga)
Starring: Ryohei Suzuki, Fumika Shimizu, Ken Yasuda, Tsuyoshi Muro, Jiro Sato Narushi Ikeda, Takashi Tsukamoto, Yoshinori Okada
This comedy film is an adaptation of Keishu Ando's manga Kyukyuko!! Hentai Kamen, is the one where Ryohei Suzuki displays most of his body on screen as a superhero wearing a mankini, fishnet stocking and girl's underwear for a mask. It was penned by Yuichi Fukuda and Shun Oguri (The Woodsman & the Rain). It also stars Fumoika Shimizu (Kamen Rider films) as the love interest. Ken Yasuda (The Actor), Tsuyoshi Muro (After School, The Story of Yonosuke), Takashi Tsukamoto (Battle Royale) and Yoshinori Okada (Fine, Totally Fine) also co-star.
Synopsis: Kyosuke Shikijo (Suzuki) is a high school student and the most talented member of his school's martial arts club. His late father was a detective and has passed on his sense of justice. On top of being a detective Kyosuke's father was a masochist while his mother was a sadist which partly explains why Kyosuke loves  wearing women's underwear! When he does wear panties, he transforms into his alter ego Hentai Kamen "Pervert Mask" and gains superhuman powers. Said superpowers come in handy when he has to protect Aiko Himeno (Shimizu) from their dirty and evil teacher (Yasuda). Fortunately Aiko's underwear gives Kyosuke super pervert techniques.
HK: Forbidden Super Hero the Abnormal Crisis   
HK 変態仮面 アブノーマル・クライシス 
Release Date: May 14th, 2016
Duration: 118 mins.
Director: Yuichi Fukuda
Writer: Yuichi Fukuda (Screenplay), Keishu Ando (Original Manga)
Starring: Ryohei Suzuki, Fumika Shimizu, Yuya Yagira, Osamu Adachi, Hirofumi Arai, Ayame Misaki,
Synopsis: HK Kamen, real name Kyosuke (Ryohei Suzuki), lives in a city where panties are disappearing. It's a major concern since he still wears Aiko's (Fumika Shimizu) panties to battle evil. When she takes her panties back, this leaves Kyosuke unable to transform just as a new enemy appears…
うんこマン 「Unkoman」
Release Date: N/A
Duration: 3 mins.
Director: Hikaru Tsukuda
Writer: Hikaru Tsukuda (Script), 
Starring: Yuki Mizuno, Hikaru Nomura, Mika Tohyama
Synopsis from the festival: On a peaceful riverside, a woman walks with her baby. A street ripper gazes into them. Who will save the family? It's… CRAP-MAN!
Past coverage: