The Udine Far East Film Festival takes place at the end of the month and, just like Nippon Connection, it is totally digital and people around the world will be able to view some of the films that have been programmed.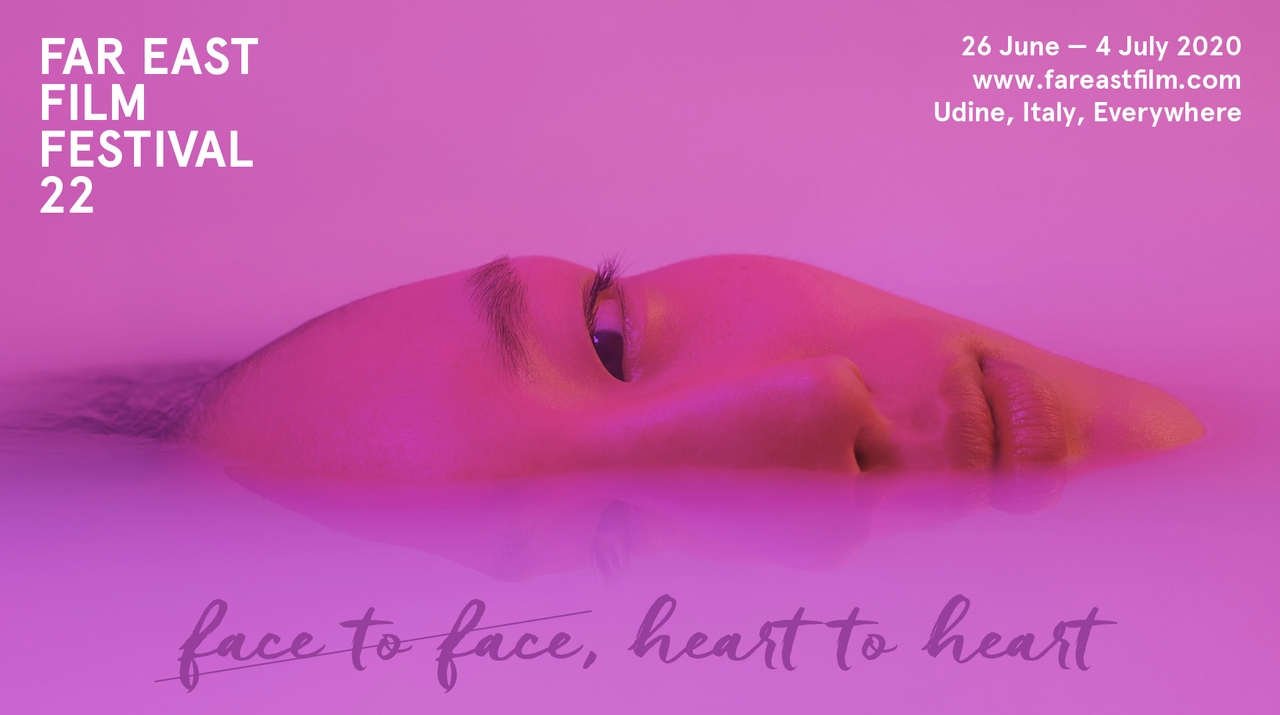 Normally, the festival takes place in Udine in the north of Italy, but, due to the Covid-19 pandemic, organisers made the decision to make this year's edition totally online. The festival runs from June 26-July 4 and the movies will be shown via the streaming services mymovies.it.
So far there have been 46 films programmed and they come from 8 countries and all will be available for streaming with different regions of the world being able to access different films. So far, there are. 4 world premieres, 12 international premieres, 10 European premieres and 17 Italian premieres and the names lined up include Better Days, My Prince Edward (review) and Lucky Chan-sil (a fantastic film!!! here's my review).
There are more Japanese films than the last couple of years. Some of them are cinema hits that have already done the festival circuit, others are some award-winning titles from last year's Tokyo International Film Festival and the Japanese Cinema Splash section. For example, Tatsuya Mori's documentary i – Documentary of the Journalist won the Best Film award whilst Hirobumi Watanabe won Best Director. He is being feted by Udine who have got four of his films, one of which is totally brand new.
Here are the films programmed for this year's Udine:
colorless   
猿楽町で会いましょう  「Sarugakuchou de aimashou」
Release Date: N/A
Duration: 122 mins.
Director: Takashi Koyama
Writer: Takashi Koyama, Yu Shibuya (Screenplay), 
Starring: Daichi Kaneko, Ruka Ishikawa, Shuntaro Yanagi, Sakurako Konishi, Ikuma Nagatomo, Hitoe Ookubo,
The winner of 2018's Unfinished Movie Trailer Grand Prix MI-CAN where filmmaker's can win a cash prize based on a trailer around 3 minutes, this takes place in Sarugakuchou in Shibuya and looks at the lives of two young people who meet there. Here's more about the area from Tokyo Weekender.  
This one is available to view in Europe only
Synopsis: A young photographer who is dating a model he met in Shibuya's Sarugakuchou finds that their sweet romance which she has fostered begins to fall apart because of her dishonesty.
#HandballStrive   
#ハンド全力「#handozenryoku」
Release Date: July 31st, 2020
Duration: 108 mins.
Director: Daigo Matsui
Writer: Daigo Matsui, Dai Sato (Script), 
Starring: Seishiro Kato, Kotaro Daigo, Aju Makita, Haruka Imou, Himi Sato, Ryota Bando,
The director is Daigo Matsui of How Selfish I Am, Ice Cream and the Sound of Raindrops, and Japanese Girls Never Die. The writer is Dai Sato of anime fame like Eureka Seven, Ergo Proxy and Eden of the East.
Synopsis: An original youth movie about a high school handball club in Kumamoto which is on the verge of being abandoned but is revived by SNS. The hero is Masao, a guy more likely to be in the "go-home" club than doing any sports. When he uploads a photo of his best friend Taichi playing handball in front of the temporary housing for residents affected by the quake to SNS, he starts getting nice comments (hence the #handballstrive) and this helps resurrect his school's handball club.
Minori, on the Brink
お嬢ちゃん  「Ojou-chan」
Release Date: September 28th, 2019
Duration: 130 mins.
Director: Ryutaro Ninomiya
Writer: Ryutaro Ninomiya (Screenplay),
Starring: Minori Hagiwara, Rieko Dote, Misaki Mireho, Sanae Yuuki, Yuki Hirose,
Ryutaro Ninomiya is back with another original film following Sweating the Small Stuff (2017). It's a female-led drama made with Enbu Cinema and set in the seaside town of Kamakura. Why are seaside towns so depressing?
This is available to view worldwide except Japan
Synopsis: Minori lives in Kamakura and has a part-time job. She also has a lot of stress due to the nature of her relationships with people who refuse to express their feelings but have no problems taking advantage of each other. Minori decides to fight back against ignorance whenever she encounters it, whatever the consequences might be.
One Night   
ひとよ  「Hitoyo」
Release Date: November 08th, 2019
Duration: 123 mins.
Director: Kazuya Shiraishi
Writer: Izumi Takahashi (Screenplay), 
Starring: Takeru Satoh, Ryohei Suzuki, Mayu Matsuoka, Yuko Tanaka, Kuranosuke Sasaki, Mariko Tsutsui, Hanae Kan, Megumi,
This one is available to view only in Italy
Synopsis: Koharu (Yuko Tanaka), in an effort to protect her three children from their abusive father, she murdered the man. It shattered their family and sent them on wildly different paths. 15 years later, the family reunites again, each bearing scars from their traumatic background…
Wotakoi: Love is Hard for Otaku   
ヲタクに恋は難しい  「Otaku ni Koi wa Muzukashii」
Release Date: February 07th, 2020
Duration: 114 mins.
Director: Yuichi Fukuda
Writer: Yuichi Fukuda (Script), Fujita (Original Webcomic)
Starring: Mitsuki Takahata, Kento Yamazaki, Nanao, Takumi Saito, Kento Kaku, Tsuyoshi Muro, Jiro Sato,
Mitsuki Takahata was adorable in Destiny: A Tale of Kamakura and she takes the lead in this fun look at otaku romance. Might I suggest watching the anime which is on Amazon.
This one is available to view only in Italy
Synopsis: An office lady named Narumi Momose (Mitsuki Takahata) meets her old childhood friend Hirotaka Nifuji (Kento Yamazaki) at the new company she works for and Hirotaka has blossomed into a handsome and talented guy. However, he is also a video game otaku. That's okay because Narumi is secretly a fujoshi into reading boys' love manga. She can finally reveal her secret side to someone and the two start dating as an otaku couple.
Romance Doll   
ロマンスドール  「Romansu Do-ru」
Release Date: January 24th, 2020
Duration: 123 mins.
Director: Yuki Tanada
Writer: Yuki Tanada (Script/Novel) 
Starring: Issey Takahashi, Yu Aoi, Kitaro, Eri Watanabe, Pierre Taki, Kenta Hamano, Toko Miura, Koji Ookura,
Yuki Tanada, director of My Dad and Mr Ito is back with this highly-rated film and you can read an interview with her and a review of this work at the Japan Times.
This one is available to view only in Italy
Synopsis: When Tetsuo Kitamura (Issey Takahashi) and Sonoko (Yu Aoi) met, it was as part of a project where he wanted a mould of her breasts but it became love at first sight and they quickly married. It was a sweet romance that seemed destined but soon their relationship became sexless as Tetsuo got absorbed in his job. What Sonoko doesn't know is that Tetsuo took a mould of her breasts because, ever since graduating from an art university, he has worked in a factory that makes Dutch wives. He is committed to his work and has met with success but faces trouble at the factory. Sonoko, a kindhearted woman, also has her own secret that she confesses…
Dance With Me   
ダンスウィズミー  「Dansu Uizu Mi-」
Release Date: August 16th, 2019
Duration: 103 mins.
Director: Yuichi Hibi
Writer: Yuichi Hibi (Screenplay),
Starring: Ayaka Miyoshi, Yuu Yashiro, Chay, Takahiro Miura, Tsuyoshi Muro, Akira Takarada,
This one is available to view only in Italy
Synopsis: Shizuka is a salarywoman preparing for a big meeting but after visiting a shady hypnotist and left under a spell which causes her to break into song and dance whenever she hears music, even if it's just a ringtone. Shizuka needs to get her head fixed for the meeting and goes on the hunt for the hypnotist who has disappeared and so starts a road-trip musical!
甘いお酒でうがい「Amai osake de ugai 」
Release Date: 2020
Duration: 107 mins.
Director: Akiko Ooku
Writer: Jiro (Script), Yoshiko Kawashima (Original Novel)
Starring: Yasuko Matsuyuki, Hana Kuroki, Hiroya Shimizu, Kanji Furutachi, Kozo Sato, Tomoya Maeno,
Jiro is a member of the manzai group Sissonne and he has written a novel in the voice of a woman named "Yoshiko Kawashima". The novel is a diary that notes her thoughts and it has been adapted for the big screen. This is Jiro's second collaboration with Akiko (Tremble All You Want) Ohku after they worked on Marriage Hunting Beauty.
This one is available to watch worldwide except Japan, Mainland China, Taiwan, and the USA.
Synopsis: Yoshiko (Yasuko Matsuyuki) is a single woman in her 40s who works in a publishing company and enjoys drinking grappa and writing in her diary. She enjoys her simple life but when she is introduced to a younger guy in his 20s, she falls in love and a new, welcome complexity changes her easy days…
A Beloved Wife   
喜劇 愛妻物語 「Kigeki Aisai Monogatari」
Release Date: September 11th, 2020
Duration: 115 mins.
Director: Shin Adachi
Writer: Shin Adachi (Screenplay/Novel)
Starring: Gaku Hamada, Asami Mizukawa, Chise Niitsu, Eri Fuse, Kaho, Kayoko Ookubo, Ken Mitsuishi, 
Shin Adachi is best known for his script for 100 Yen Love (2014) and has worked on other projects, including directing a warmly received comedy 14 That Night (2016). He adapts his autobiographical novel for his sophomore film as a director and it was produced by Aoi Pro, whose works include Shoplifters (2018) and The Long Excuse (2016). This won Best Screenplay at last year's Tokyo International Film Festival.
This is available to view around the world and boy, does the wife look gloomy!
Synopsis: Gota Yanagida (Gaku Hamada) is a scriptwriter with a family and a desperate need for a hit film. His wife of 10 years, Chika (Asami Mizukawa), is the family breadwinner and very unhappy about their lack of money. His daughter Aki (Chise Niitsu) is beginning to view him as a bit of a loser. His desperation for a break is finally answered when a film producer tasks Gota with writing a screenplay for his story of "a high school girl who makes udon noodles at a tremendous speed". Gota has a chance to travel to Kagawa Prefecture to write a screenplay and so he persuades Chika and Aki to go with him, but when he arrives he discovers a different film project has already been decided…
Hirobumi Watanabe
A Special Tribute section dedicated to Hirobumi Watanabe called:
WATANABE HIROBUMI, COMIC POET OF THE EVERYDAY
Since his very first film, Hirobumi has been shooting mostly in Tochigi Prefecture and with the same actors and crew like his brother Yuji, who provides music, and Woo Hyun-Bang, the cinematographer. He has built up an oeuvre of quietly funny comedies with their own distinctive atmosphere. There is nobody else like him in the world so this is a good chance to catch up.
All of these films are available to view worldwide through the festival.
Cry   
叫び声 「Sakebigoe」
Release Date: N/A
Duration: 75 mins.
Director: Hirobumi Watanabe
Writer: Hirobumi Watanabe (Screenplay), 
Starring: Hirobumi Watanabe, Riko Hisatsugu, Keita Hisatsugu, Nanaka Sudo, Takanori Kurosaki, Gaku Imamura, Yuji Watanabe, Misao Hirayama,
I met the Watanabe brothers and their cinematographer at the 2014 Raindance Film Festival's screening of And the Mud Ship Sails Away and I got their autographs. Little did I suspect that they would turn into familiar faces at the Tokyo International Film Festival as they get backing from the event to keep produce their brand of offbeat comedy shot in black-and-white. It's an alternative to the urban voices and a lot of sideways fun.
Synopsis: A man who lives with his ageing grandmother works silently in a pigpen…
Party 'Round the Globe
地球はお祭り騒ぎ 「Chikyuu wa omatsuri Sawagi」
Release Date: N/A
Duration: 117 mins.
Director: Hirobumi Watanabe
Writer: Hirobumi Watanabe (Screenplay), 
Starring: Hirobumi Watanabe, Gaku Imamura, Takanori Kurosaki, Yuji Watanabe, Riko Hisatsugu,
Synopsis: Hikaru Honda works at a small electronics factory in a suburban town in the north of the Kanto region. He leads a quiet life with his dog Ringo but one day, he decides to go to a Paul McCartney concert at Tokyo Dome with his fellow Beatlemaniac, Takafumi Hirayama. Thus, a road-trip movie is born!
Life Finds a Way   
普通は走り出す 「Futsu wa hashiridasu」
Release Date: October 25th, 2019
Duration: 107 mins.
Director: Hirobumi Watanabe
Writer: Hirobumi Watanabe (Screenplay), 
Starring: Hirobumi Watanabe, Minori Hagiwara, Yako Koga, Sakiko Kato, Riko Hisatsugu, 
Synopsis: Hirobumi Watanabe lays the creative process bare in a film where he stars more or less as himself. We see his daily life out in the rural countryside as he struggles from writer's block and tries to get inspired. However, a message from a doctor with some news causes a situation…
I'm Really Good     
わたしは元気 「Watashi wa Genki」
Release Date: October 25th, 2019
Duration: 107 mins.
Director: Hirobumi Watanabe
Writer: Hirobumi Watanabe (Screenplay), 
Starring: Riko Hisatsugu, Nanako Sudo, Keita Hisatsugu, Mei Mukaiyama, Yui Honiden, Ayaka Hoshi, Hirobumi Watanabe, 
Website    IMDB
The Udine screening will be the world premiere.
Synopsis: Not much in terms of a story but we know the star: Riko Hisatsugu. She has appeared in Watanabe's other films and I believe she was in the section of Kamata Prelude he directed. Anyway, this was filmed from March to May, 2018, and Riko was in third grade at the time of filming. She was originally a student of the "Yuji Watanabe Music Class".
i -Documentary of the Journalist-
i -新聞記者ドキュメント-「I – shinbun kisha dokyumento –」
Release Date: November 15th, 2019
Duration: 120 mins.
Director: Tatsuya Mori
Writer: N/A
Starring: Isoko Mochizuki
Tatsuya Mori is a documentarian famous for the films A (1998), 311 (2011) and Fake (2016). He also acted as producer on The Journalist (2019) which is based on a book by the real-life female journalist, Isoko Mochizuki. She forms the centre of this film as she pursues the truth.
This one is available to view in Europe
Synopsis: Traditional news media is in a spin as social media, financial forces and political tribalism batter them around. Maybe film documentary might be the best place for news if not for some of brave journalists still working for newspapers who are unafraid to look for the truth. Isoko Mochizuki of The Tokyo Shimbun is one of them as she asks all the awkward questions that keep those in power on their toes and ferrets out the truth. This in a country which is still patriarchal, in an industry which is male-dominated, in a media environment that prefers not to challenge those in power lest they lose access to government press conferences. Here's an article about her in The New York Times (written by Motoko Rich) which gives an excellent overview of the environment she works in.
Labyrinth of Cinema     
Labyrinth of Cinema=海辺の映画館 キネマの玉手箱「Labyrinth of Cinema = umibe no eigakan kinema no tamatebako」
Release Date: N/A
Duration: 179 mins.
Director: Nobuhiko Obayashi
Writer: Nobuhiko Obayashi (Screenplay),
Starring: Takuro Atsuki, Takahito Hosoyamada, Yoshihiko Hosoda,
Nobuhiko Obayashi recently passed away but two films involving him are on the festival circuit. Both were at the Tokyo International Film Festival, the documentary hasn't reached Europe yet, as far as I know, whereas this one has played at Rotterdam. Labyrinth of Cinema is an anti-war film that mixes in a love of cinema, a subject mix which Obayashi relished with so many of his projects. 
This one is available to view online in Europe (but not the UK).
Synopsis: Three young people at a soon-to-be-shuttered cinema are enjoying the final screening: a marathon of old war films. The three become so immersed in the action that they find themselves time-slipping through the screen to various historical events connected to cinema and war such as witnessing death during the Sengoku period and on a battlefront in China, being in Hiroshima just before the Aug. 6, 1945, atomic bombing of the city. This was shot in Obayashi's hometown in Onomichi and has an anti-war message.
The Udine Far East Film Festival 2020 Virtual Pass has been available from June 8th. Online screenings are available from June 26th to July 4th. Details will be updated on the official website (https://www.fareastfilm.com/).