This year's edition of the Annecy International Animation Film Festival is the 60 anniversary of the fest and it takes place from June 15th to the 30th and, due to the COVID-19 situation, it's a totally online edition. Unlike last year's event, which was jam-packed with films, there are about four Japanese animated films and some international co-productions on the roster. The festival welcomes back Masaaki Yuasa, who has directed a Netflix show, and there are some newbie directors.
As per usual, titles contain links to the festival and sources used for information range from the festival site itself to My Anime List (MAL) and Anime News Network (ANN). Let's start with…
Feature Films in Competition
ルパン三世 THE FIRST  「Rupan Sansei The First」
Release Date: December 06th, 2019
Duration: 93 mins.
Director: Takashi Yamazaki
Writer: Takasshi Yamazaki (Script), Monkey Punch (Original Creator), Maurice Leblanc (Original Concept)
Starring: Kanichi Kurita (Lupin III), Kiyoshi Kobayashi (Daisuke Jigen), Daisuke Namikawa (Goemon Ishikawa XIII), Miyuki Sawashiro (Fujiko Mine), Koichi Yamadera (Koichi Zenigata),
Animation Production: TMS Entertainment, Marza Animation Planet
Synopsis: There is a special treasure known as the "Bresson Diary", something which can lead to riches beyond a person's wildest dreams. It has been the target of many different types of people from fortune seekers to Nazis. During the Second World War, famous thief Lupin I tried to steal it but failed. Flashfoward to his grandson, Lupin III who teams up with a mysterious woman named Leticia to retrieve the diary for this action-packed adventure!
ぼくらの7日間戦争  「Bokura no Nanokakan Sensou」
Release Date: December 13th, 2019
Duration: 88 mins.
Director: Yuuta Murano
Writer: Ichiro Okouchi (Script), Osamu Souda (Original Novel),
Starring: Kyoko Yoshine (Aya Chiyono), Takumi Kitamura (Mamoru Suzuhara), Haruka Michii (Saki Akutsu), Makoto Koichi (Malet), Megumi Han (Kaori Yamazaki),
Animation Production: Ajia-Do
Synopsis: It is almost time for the summer holiday but the entire male student body of one class from a junior high school disappear early as they put into action a rebellion against adults. With the help of female students, they launch operations from their base in an abandoned factory in a protest against adults and their hypocrisy and corruption. The boy's actions thrill society even as they cause chaos for the iniquitous status quo.
Feature Films Contrechamp in Competition
音楽  「Ongaku」
Release Date: January 11th, 2020
Duration: 71 mins.
Director: Kenji Iwaisawa
Writer: Hiroyuki Ohashi (Screenplay), 
Starring: Kami Hiraiwa (Morita), Shintaro Sakamoto (Kenji), Ren Komai (Aya), Naoto Takenaka (Oba), Tateto Serizawa (Asakura), Tomoya Meno (Ota),
Animation Production: N/A
This anime is based on the manga by Hiroyuki Ohashi and the write up makes it sound good as "the film's animation technique evolves as the story does, culminating in a rock 'n' roll spectacle for the ears and the eyes".
The film won Best Feature Film at the Ottawa International Animation Festival, played at the London International Animation Festival 2019 and a review over at the Japan Times has given it 5 out of 5!
Synopsis: One summer's day, three outsider high school students who haven't touched an instrument in their lives decide to form a band to express their teenage angst and impress girls. Does it matter that Kenji and his friends have never played an instrument before? Of course not – he's got a guitar at home and his friends have a bass and drums in theirs so in the true spirit of punk, with blind confidence and absolutely minimal effort they start to make friends and influence people.
Release Date: N/A
Duration: 93 mins.
Director: Eiji Han Shimizu
Writer: Eiji Han Shimizu (Script), 
Starring: Joel Sutton (Voice),
Animation Production: Sumimaseen PTE. LTD.
This is an international collaboration using Japanese animation to tell a story of human rights violation inside North Korea's concentration camps. Some quick research reveals that this was subject to a Kickstarter campaign nearly a decade ago. Director Eiji Han Shimizu as this interview at the Jakarta Post website from 2015 attests.
Synopsis from the festival website: After his father disappears and the rest of his family is sent to a notorious political prison camp in North Korea, a young boy must learn to survive the harsh conditions, find meaning in his perilous existence, and maybe even escape.
Short Films in Competition
Release Date: February 28th, 2020
Duration: 04 mins.
Director: Patrick Smith, Producer: Kaori Ishida
Writer: N/A
Starring: N/A
Animation Production: Blend Films Animation
This is an American film with a Japanese subject and has already been at a number of festivals such as Tribeca and now it gets shown at Annecy. Patrick Smith has worked as a storyboard artist for Walt Disney and an animation director for MTV.
Synopsis from the website: "Beyond Noh" rhythmically animates 3,475 individual masks from all over the world, beginning with the distinctive masks of the Japanese Noh theatre and continuing on a cultural journey through ritual, performance, utility, and politics.
TV FILMS
Japan Sinks: 2020 "The Beginning of the End"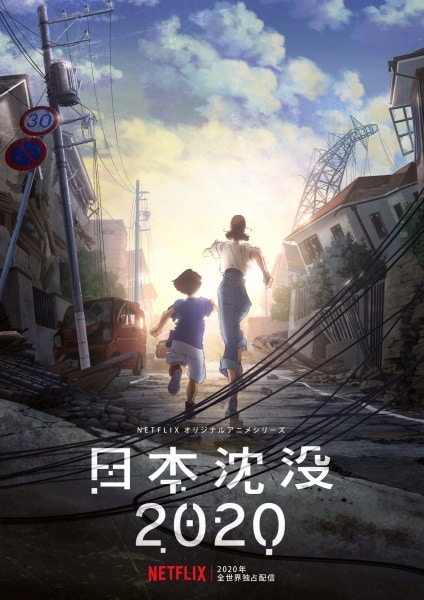 日本沈没 「Nihon Chinbotsu」
Release Date: 2020
Duration: 25 mins. x 10 episodes
Series Director: Pyeon-Gang Ho, Director: Masaaki Yuasa
Writer: Toshio Yoshitaka (Script), Sakyo Komatsu (Original Creator)
Starring: Masaki Terasoma (Koichiro Muto), Tomo Muranaka (Go Muto), Yuko Sasaki (Mari Muto), Reina Ueda (Ayumu Muto),
Animation Production: Science SARU
According to Anime News Network, this is competing in the TV Films category but I cannot see it on the site. This is an adaptation of Sakyo Komatsu's science-fiction novel of the same name. It has previously been adapted into a live-action film twice, one version directed by Shinji Higuchi in 2006, the other directed by Shiro Moritani in 1973. This newest version is a 10 episode anime that has been produced by animation outfit Science SARU for Netflix and is another collaboration for the two following Devilman Crybaby.
The director is Masaaki Yuasa is credited as an episode director but the series director is Pyeon-Gang Ho, a relative newbie who has worked as an episode director on various properties like Zankyou no Terror. The two have collaborated before where she directed an episode of Ping Pong: The Animation and was a unit director on The Night is Short Walk On Girl. Toshio Yoshitaka (Dragon Ball Super) is credited with penning the script adapted the book. Music comes from Kensuke Ushio (Ping Pong the Animation, A Silent Voice, Devilman Crybaby).
Masaaki Yuasa is a familiar face at Annecy considering he has shown a lot of films and TV anime there: Ride Your Wave was screened in competition at Annecy last year, episodes of Adventure Time were screened in 2015 and Lu Over the Wall won Cristal for a Feature Film award at Annecy in 2017.
UPDATE (May 29th): Trailer added
The anime is screening in competition at Annecy in the TV Films category. Here are images from the official Tumblr.
Synopsis: Sometime in the modern era, a series of natural disasters hit Japan, from volcanic eruptions to earthquakes and they begin to cause massive tectonic shifts that threaten the Japanese archipelago. It's looking like the country will sink into the sea as the country shifts towards a trench. Amidst all of this mounting disaster, the Muto family attempt to escape Tokyo.
The story was originally set after the Tokyo Olympics but since that was cancelled maybe this apocalypse is on hold?
Graduation Short Films
Release Date: N/A
Duration: 06 mins.
Director: Isaku Kaneko
Writer: Isaku Kaneko (Script), 
Starring: N/A
Animation Production: N.A. 
Isaku Kaneko's work while at Tama Art University now forms part of the Graduation Short Films in Competition.
Synopsis: An axe human who lives in a balloon city finds it difficult living with balloon people because  his sharp blade frightens balloon humans. Despite his best efforts, the death of a balloon human on a gloomy subway platform could spell disaster.
Works in Progress
There are two films that are worth looking at for fans of Japan:
The Summit of the Gods is a co-production between France and Luxembourg directed by Patrick Imbert and based on the manga by Jiro Taniguchi and the 1998 novel by Baku Yumemakura. The story follows a Japanese photographer in Kathmandu named Fukamachi, who accidentally finds a camera that supposedly belonged to George Mallory, a mountaineer who went missing on Mount Everest with his partner in the 1924. What if they had scaled the mountain and just went missing on the way back? Fukamachi and his friend Habu go on an adventure looking for the truth.
犬王「Inu Oh」
Release Date: 2021
Duration: 90 mins.
Director: Masaaki Yuasa
Writer: Akiko Nogi (Script), Hideo Furukawa (Original Novel – Heike Monogatari – Inu-Oh no Maki)
Starring: N/A
Animation Production: Science SARU
This work in progress is an adaptation of Heike Monogatari – Inu-Oh no Maki by Hideo Furukawa and is Based on the true story of 14th-century Sarugaku Noh performer and playwright Inu-Oh. The film is billed as a musical that will incorporate both modern song and dance which is all being produced by animation outfit Science SARU with ASMIK Ace working as distributor.
Manga artist, Taiyo Matsumoto (Tekkonkinkreet, Ping Pong, Sunny), who previously worked with Yuasa on Ping Pong: The Animation, is credited as the character designer. The screenplay comes from Akiko Nogi who has adapted manga into live-action films like Library Wars and I Am a Hero. Inu-Oh is her first time writing an animated feature.
Statement from Asmik Ace:
"Inu-Oh was a real-life figure, a Sarugaku Noh performer and playwright who was extremely popular in the 14th century. However, he is all but unknown to people nowadays, because very few documents about his life have survived. Now, around 600 years later, this Inu-Oh project portrays the tales of brotherhood between the legendary Inu-Oh, who vanished from history, and a certain Biwa player, and is full of music and dance sequences."
Synopsis from Askmik Ace: Inu-Oh is a real person lived in the 14th century. He is a Noh dancer and extremely popular in that era. However, he is all but unknown to people nowadays, because only few documents about his life has left.
 Inu-Oh has a tangled fate. He was born with a deformity. His parents covered his face and body with a mask and fabric. But he is aggressive and sassy. One day, Inu-Oh meets a boy. He is a blind Biwa player called Tomona.
 "You should make a song of my life with Biwa."
 Tomona starts to make a song of Inu-Oh's life and play it with Biwa. By and by, they becomes best business partners tied with a strong friendship to survive their lives, and blooms their talent. Once Inu-Oh attracts the audience by dancing on the stage, his body is transformed. They rise to stardom over night. Why Tomona lost his eyesight? Why Inu-Oh was born as a deformed child? To find the truth, and lift a curse with each other, they sing and dance. A musical animation focusing on two pop stars!
Past coverage:
Annecy International Animation Festival 2015
Annecy International Animation Festival 2016
Annecy International Animation Festival 2017
Anime wins awards at Annecy 2017
Annecy International Animation Festival 2018