Happy weekend, everyone.
I hope you are all well.
This week, I've been diligently writing reviews and prepping them as well as getting ready for a Japanese film festival. I posted my reviews for Erica 38 and the Hirokazu Koreeda film Distance.
What is released this weekend in Japan?
A whole lot of films. Thankfully, a lot were played at the Tokyo International Film Festival 2019 or are older films so I could just copy and paste from past articles I wrote!
Higanbana in the Rain
花と雨  「Hana to Ame」
Release Date: January 17th, 2020
Duration: 114 mins.
Director: Takafumi Tsuchiya
Writer: Takafumi Tsuchiya, Takahiro Horieta (Screenplay), Takafumi Tsuchiya, SEEDA (Original Album/Work)
Starring: Sho Kasamatsu, Ayaka Onishi, Chihiro Okamoto, Ozuno Nakamura, Kyohei Mitsune
Synopsis: The rapper SEEDA's 2006 album  Flowers and Rain forms the basis of this work about a young man's travails. You can hear the SEEDA's work on this webpage dedicated to Japanese hip-hop. Rising stars Sho Kasamatsu and Ayaka Onishi (Randen) take the lead roles.
The Horse Thieves. Roads of Time   
オルジャスの白い馬「Oruhasu no Shiroi Uma」
Release Date: January 18th, 2020
Duration: 81 mins.
Director: Yerlan Nurmukhambetov, Lisa Takeba
Writer: Yerlan Nurmukhambetov (Screenplay),
Starring: Dulyga Akmolda, Madi Minaidarov, Mirai Moriyama, Samal Yeslyamova,
This road movie/western is a co-production between Kazakhstan/Japan and brought to the big screen via Tokyo New Cinema. It is the work of two directors, Yerlan Nurmukhambetov who won the New Currents Award in Busan International Film Festival 2015, and Lisa Takeba. Yes, that Lisa Takeba with the fierce imagination who made The Pinkie (2014) and Haruko's Paranormal Laboratory (2015). In his first overseas role, Mirai Moriyama (The Drudgery Train) takes one of the lead characters amongst a predominantly Kazakh cast.
It looks like an ambitious and fresh new movie production for Japan as it follows To the Ends of the Earth to new territories and stories. 
Synopsis: We are in the plains of the Central Asian nation of Kazakhstan, a world where horse thieves operate under vast skies and on huge grass plains. A family man is murdered by those thieves as he heads to a town market to sell his horses. This leaves his wife a widow and his children fatherless. The village comes together to help the wife hold the man's funeral and then the wife decides to return to her family with her children. Then, another man who vanished from her life eight years ago appears and helps the woman move and takes one of the children, the son, under his wing, teaching him how to ride horses. The son of the wife resembles that man. The man and the boy go out on horseback together and track down the horse thieves…
Tokyo Paralympics: Festival of Love and Glory   
東京パラリンピック 愛と栄光の祭典  「Tokyo Pararinpikku Ai to Eiko no Saiten」
Release Date: 1965
Duration: 63 mins.
Director: Kimio Watanabe
Writer: N/A
Starring: N/A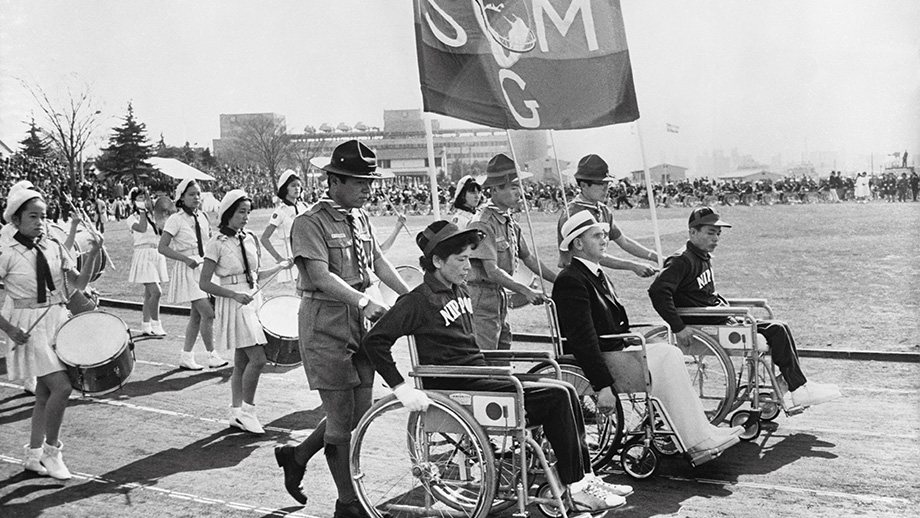 Synopsis: This documentary was shot during the 1964 Tokyo Paralympics and looks at the conditions faced by the physically disabled in Japan at the time. Many of the athletes were affected by World War II, some returning from the battlefields as wounded soldiers, and this was seen as a way to rehabilitate them.  The then Crown Prince Akihito and Crown Princess Michiko — now former emperor and former empress — are seen with them.
The Return   
帰郷  「Kikyou」
Release Date: January 17th, 2020
Duration: 119 mins.
Director: Shigemichi Sugita
Writer: Shigemuchi Sugita, Masahiro Kobayashi (Screenplay), Shuhei Fujisawa (Novel)
Starring: Tatsuya Nakadai, Takako Tokiwa, Kazuki Kitamura, Naoto Okada, Ayumi Tanida,
Synopsis: An ailing outlaw who returns to his hometown after a 30-year journey. In the village of his youth, he decides to save a girl in dire straits.
Bad Poetry Tokyo     
東京不穏詩 「Tōkyō fuon uta」
Release Date: 2018
Duration: 114 mins.
Director: Anshul Chauhan
Writer: Anshul Chauhan, Rand Colter (Screenplay), Anshul Chauhan (Original Story)
Starring: Shuna Iijima, Orson Mochizuki, Takashi Kawaguchi, Nana Blank, Kohei Mashiba, Kento Furukoshi,
Bad Poetry Tokyo is a stunning human drama with a tone reminiscent of The Light Shines Only There (2014). It is lead by a powerful performance from Shuna Iijima who has to deal with heavy issues and does so with a grace that is breathtaking. Her performance won her the Best Actress award at the 2018 Osaka Asian Film Festival and I can tell you now that it will keep you riveted to the screen. Here's my review of the film and an interview with the director and cast. Highly recommended.
Synopsis: Jun Fujita is 30 years old. She majored in English at Tokyo University. That is the lie she tells people when she applies for acting jobs. In reality, she works as a hostess at a shady club. Life hasn't turned out the way she wanted when she escaped home back in Nagano Prefecture five years ago. Still, she dreams of being an actress and is about to touch her dream when she is betrayed by her lover and things go wrong at the club. Broken and made savage by the experience, she heads back to her sleepy hometown in the countryside to lick her wounds. Things haven't changed much there and she reconnects with an old flame but there are ugly truths about her past that lurk beneath the surface …
Summer Wars 4DX
サマーウォーズ 「Sama- Wo-zu」
Release Date: August 01st, 2009
Duration: 114 mins.
Director: Mamoru Hosoda
Writer: Satoku Okudera (Screenplay),
Starring: Kenji Koiso (Ryunosuke Kamiki), Kazuma Ikezawa (Mitsuki Tanimura),
Sumiko Fuji (Sakae Jinnouchi), Nanami Sakuraba (Natsuki Shinohara), Ayumu Saitou (Wabisuke Jinnouchi),
Animation Production: Madhouse
Mamoru Hosoda brings a near-future sci-fi romance title set in Ueda in Nagano Prefecture which is close to the director's birthplace. It earned him the Japanese Academy Award for Animation of the Year in 2010 with its action, romance and family values. It has been re-released as a tenth anniversary screening and it will be a 4DX experience.
Synopsis: Kenji Koiso is a 17-year-old maths genius and part-time moderator for the world of OZ, a globally popular online world which many people use to regulate aspects of their daily lives from shopping to social media. One summer, he is invited by his secret crush Natsuki on a summer trip to Nagano where he will stay at her family's estate. They are preparing for her great-grandmother's 90th birthday but he suddenly receives a mysterious, coded message on his cell phone from an unknown sender who challenges him to solve it but his maths skills might just put the world in danger…
Complicity 
コンプリシティ優しい共犯 「Konpurishitei Yasashii Kyouhan」
Release Date: January 17th, 2020
Duration: 116 mins.
Director: Kei Chikaura
Writer: Kei Chikaura (Screenplay),
Starring: Yulai Lu, Tatsuya Fuji, Sayo Akasaka, Kio Matsumoto, Fusako Urabe,
This China-Japan co-production seems to be a continuation of the director's short film Signature which also stars Yulai Lu. That short featured him playing a Chinese immigrant wandering around Shibuya.
Synopsis: A Chinese man named Chen Liang (Lu Yulai) left China and his ill mother and elderly grandmother to live in Japan. He wanted to escape his responsibilities and have a new life but he finds himself experiencing the hardships that come with living illegally in Japan but it looks like things might change for the better when he takes a phone call meant for someone else and accepts a job at a traditional Japanese soba restaurant run by an elderly chef (Tatsuya Fuji). He takes to learning the art of soba-preparation, however, his illegal status could put things in jeopardy.
Mellow   
Release Date: January 17th, 2020
Duration: 106 mins.
Director: Rikiya Imaizumi
Writer: Rikiya Imaizumi (Script) 
Starring: Kei Tanaka, Sae Okazaki, Sumire, Sara Shida, Rie Tomosaka,
Synopsis: Seiichi Natsume (Kei Tanaka) and his neighbour Kiho/Natsume (Sae Okazaki) are both young people who own businesses but have different attitudes; Seiichi loves working as a florist while Kiho inherited the ramen restaurant and plans on closing it. Both are single and both begin to influence each other…
Last Letter   
ラストレター  「Rasuto Reta-」
Release Date: January 17th, 2020
Duration: 121 mins.
Director: Shunji Iwai
Writer: Shunji Iwai (Script) Kyoya Origami (Novel)
Starring: Takako Matsu, Suzu Hirose, Hideaki Anno, Ryunosuke Kamiki, Miho Nakayama, Nana Mori, Etsushi Toyokawa, Masaharu Fukuyama,
A film split between past and present where a novelist reminisces about his love for a dead woman after meeting her sister.
Synopsis: Yuri Kishibeno (Takako Matsu) is a married housewife with two children. When she attends her sister's funeral she meets her niece Ayumi (Suzu Hirose) for the first time in many years. Ayumi has grown up a lot but finds it hard to accept her mother's death and, because of this, she can't open a letter left behind by her mother. Yuri takes on the task of informing her sister's friends and acquaintances about her death. At one gathering, she is mistaken for her sister and Yuri meets her first love Kyoshiro Otosaka (Masaharu Fukuyama), a failed novelist, she starts a snail-mail correspondence where she talks about her real marriage and he sends her messages about his love. These messages fall into Ayumi's hands…
The Memory Eraser   
記憶屋 あなたを忘れない  「Kiokuya: Anata wo Wasurenai」
Release Date: January 17th, 2020
Duration: 105 mins.
Director: Yuichiro Hirakawa
Writer: Keiko Kanome, Yuichiro Hirakawa (Script) Kyoya Origami (Novel)
Starring: Ryosuke Yamada, Kyoko Yoshine, Misako Renbutsu, Rika Izumi, Atsuko Sakurai, Naho Toda, Yuki Saso, Risa Sudo, Min Tanaka, Tetta Sugimoto,
Synopsis: Ryoichi Yoshimori (Ryosuke Yamada) and his girlfriend Kyoko Sawada (Misako Renbutsu) are on the path to wedded bliss when she suddenly disappears. She reappears several days later but Kyoko does not remember him. Lately, there have been rumours that a person named Kiokuya erases people's memories and Ryoichi suspects that Kyoko is a victim. Ryoichi talks to a lawyer named Chiaki Takaharu (Kuranosuke Sasaki) and gets help from childhood friend Maki Kawai (Kyoko Yoshine) as he searches for the truth.
太陽の家  「Taiyou no Ie」
Release Date: January 17th, 2020
Duration: 123 mins.
Director: Hajime Konno
Writer: Itaru Era (Script) 
Starring: Tsuyoshi Nagabuchi, Naoko Iijima, Mayu Yamaguchi, Yunho, Shinya Ueda, Eita Nagayama, Ryoko Hirosue,
Synopsis:  Shingo Kawasaki is a skilled carpenter and skilled in understanding people. He has a wife and child and they live happily together. He takes an interest in an insurance company saleswoman named Mei Ikeda. She is a single mother living with her son. Kawasaki figures he can be something of a father figure and support Mei by building a house for them but when Mei's ex appears…
Deep Logic 
ディープロジック  「De-pu Rojikku」
Release Date: January 18th, 2020
Duration: 121 mins.
Director: Kentaro Yamagishi
Writer: Yoichi Matsumoto (Script) Kyoya Origami (Novel)
Starring: Shun Todo, Mina Kuryu, Aina Shiina, Kanehisa Tsuchiya, Miki Udagawa,
Synopsis from IMDB:Failed musician Todo meets and falls for cute street musician Kuryu who – as it turns out – is being followed not only by a journalist, terrorists, and the police, but even by the Japanese Prime Minister himself. While trying to find out what dangerous secret Kuryu is hiding, Todo lands in the middle of a vortex of power and intrigue, that threatens to destroy not only his own life but the lives of millions of people.
Gekijouban High School Fleet   
劇場版 ハイスクール・フリート  「Gekijouban Haisuku-ru Furi-to」
Release Date: January 18th, 2020
Duration: 105 mins.
Chief Director: Yuu Nobuta, Director: Jun Nakagawa
Writer: Takaaki Suzuki (Script/Original Creator) Kunihiko Okada (Script)
Starring: Lynn (Mashiro "Shiro" Munetani), Nozomi Furuki (Shima "Tama" Tateishi), Shiina Natsukawa (Akeno "Mike" Misaki), Emi Miyajima (Mayumi "Mayu-chan" Uchida),
Production: A-1 Pictures
Synopsis: When the tectonic plates around Japan shifted, lots of land was submerged. 100 years ago later, Japan has Marine Cities that are connected by sea-lanes and women have flocked to maritime jobs including in defence hence the creation of the BLUE MERMAIDS, the naval unit every female student wants to hoin! This is the story of Akeno Misaki and Moeka China who enrol in a marine high school in Yokosuka, along with other girls who share their goal of "BECOMING A BLUE MERMAID."
Made in Abyss: Dawn of the Deep Soul   
劇場版メイドインアビス 深き魂の黎明  「Gekijouban Meido In Abisu Fukaki Tamashii no Reimei」
Release Date: January 17th, 2020
Duration: 105 mins.
Director: Masayuki Kojima,
Writer: Hideyuki Kurata (Script/Original Creator) 
Starring: Mariya Ise (Regu), Miyu Tomita (Riko), Shiori Izawa (Nanachi), Inori Minase (Prushka), Toshiyuki Morikawa (Bondrewd)
Production: Kinema Citrus
Synopsis: Riko and Reg are continuing to adventure in the Abyss and have a new friend named Nanachi. They have reached the fifth layer, the Sea of Corpses, where the mysterious Bondrewd, a legendary White Whistle, lurks and he has a history with Nanachi…
Kodou   
鼓動  「Kodou」
Release Date: January 18th, 2020
Duration: 28 mins.
Director: Makoto Shinada
Writer: Makoto Shinada (Script) Kyoya Origami (Novel)
Starring: Kisetsu Fujiwara, Takashi Irie, Yuki Masuda, Ken Sugawara, Kensuke Ashihara,
Synopsis: One day, near a station, Mitsuru witnessed a man named Takahashi drop to the ground in tears while holding a phone. The people around them passed by trying to avoid the scene and being inconvenienced. Mitsuru acted the same way. That memory from a year ago haunts him as he thinks about his own father…
Neko Kaeru Cat's Home   
猫、かえる Cat's Home  「Neko, Kaeru Cat's Home」
Release Date: January 18th, 2020
Duration: 20 mins.
Director: Shinobu Imao
Writer: Shinobu Imao (Script) 
Starring: Serena Motola, Makoto Shinada, Manaka Kinoshita, Takahiro Ono
Synopsis: A young woman goes to her ex-boyfriend's place to pick up her cat Eve after he becomes allergic to cats. However, the feline makes an escape…
A late show at Cinema Rosa in Ikembukuro will screen a number of indie shorts by Mutsumi Sato and the trailers here are the only ones that I could find:
Gomi no youna
ゴミのような  「Gomi no youna」
Release Date: January 18th, 2020
Duration: 28 mins.
Director: Mutsumi Sato
Writer: Mutsumi Sato (Script) Kyoya Origami (Novel)
Starring: Minami Obata, Yasuyuki Sakurai, Tsubasa Nishidome, Katsuto, Yuko Toba, Kouki Yanagihara,
Synopsis: A woman who lives together with her unemployed boyfriend and finds that their relationship breaks down since she does all the work while he lazes around. When she meets a man who claims to be a pimp, she finds her attention switches to him because of his unique character and flirtiness.
Roundabout
ラウンドアバウト  「Raundo Abauto」
Release Date: January 18th, 2020
Duration: 39 mins.
Director: Mutsumi Sato
Writer: Mutsumi Sato (Script) 
Starring: Kaho Taguchi, Yasuyuki Sakurai, Reiko Iwamatsu, Minami Obata, Shingo Matsuoka,
Synopsis: A lighthearted exchange between a woman named Michiru who works hard at an izakaya and her ex-boyfriend, Sosuke, who appears one…