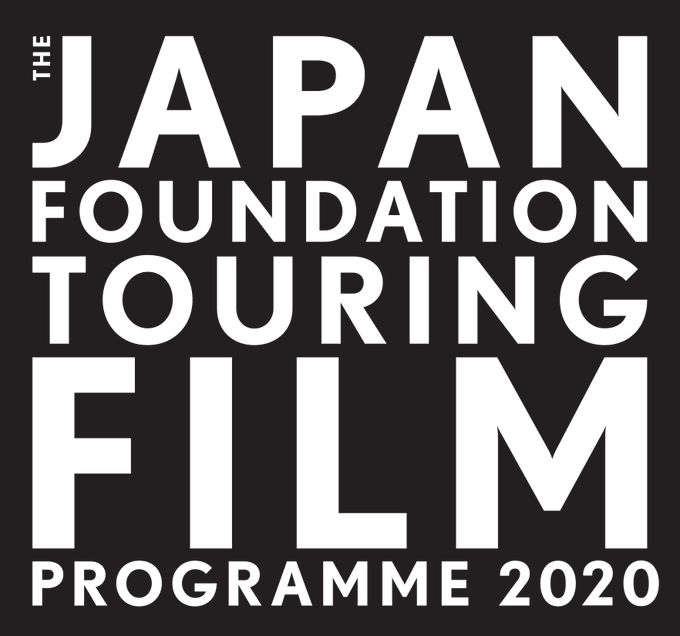 The Japan Foundation announced the details of their Touring Film Programme for 2020. The tour lasts from January 31st to March 29th and the theme that connects them all is "love". The films look at the emotions of joy and despair and, presumably, there will be every other emotion in between as people seek happiness. According to the organisers, there are stories of "love, social inclusion, the resilience of humankind through times of hardship, and unconventional paths to achieving and maintaining joy".
Here are the films:
A Banana? At This Time of Night?   
こんな夜更けにバナナかよ 愛しき実話 「Konna Yofuke ni Banana kayo: Kanashiki Jitsuwa」
Release Date: December 28, 2018
Duration: 120 mins.
Director: Tetsu Maeda
Writer: Hiroshi Hashimoto (Screenplay), Kazufumi Watanabe (Original Novel),
Starring: Yo Oizumi, Mitsuki Takahata, Haruma Miura, Masato Hagiwara, Makiko Watanabe, Koichi Sato, Mieko Harada, Shohei Uno, Hanae Kan,
This is based on a true story that took place in lead actor Yo Oizumi's home town. He's a good actor who does every-man and comic roles well. This one seems like a combination of the two as he takes on a person with muscular dystrophy who has a different sense of humour who just wants to be normal. Expect pathos after the laughter. He is partnered with two good actors, Yo Ouzymi (I Am a Hero), Haruma Miura (Tokyo Koen), Mitsuki Takahata (Japanese Girls Never Die), Makiko Watanabe (Love Exposure), Koichi Sato (Starfish Hotel) and Hanae Kan (Yamato California) provide an excellent cast. 
Synopsis: Yasuaki Kano (Yo Oizumi) a man with muscular dystrophy. He has had it since the age of 12 but that doesn't stop him trying to live life to the fullest including being mischievous in ways from an eccentric sense of humour to escaping the hospital. It's totally in character for him to say he wants to eat a banana late at night.
He meets Hisashi Tanaka (Haruma Miura), a medical student doing volunteer work at his hospital. Hisashi kind of likes him but when Yasuaki develops a crush on Hisashi's girlfriend Misaki Ando (Mitsuki Takahata) Hisashi finds himself in a bind..
世界は今日から君のもの  「Sekai ha Kyou Kara Kimi no Mono」
Release Date: June 15th, 2017
Duration: 106 mins.
Director: Masaya Ozaki
Writer: Masaya Ozaki (Script) 
Starring: Mugi Kadowaki, Takahiro Miura, Yu Hirukawa, Junpei Yasui, Ryusuke Komakine, Makita Sports, You, Takeaki Shima,
Mugi Kadowaki is a fine leading lady with great performances in all manner of works like Hanagatami and Double Life. This one looks engaging especially as it takes in video game culture.
Synopsis: Masami Konuma (Mugi Kadowaki) has little human contact outside of her father Eisuke (Makita Sports) because she has not left her home in a number of years. She is a fully-fledged otaku with a passion for drawing and her father, so worried about her, uses this to get her a job debugging video games. It seems like a genius idea since it doesn't require much interaction with other people but her drawings soon get her noticed in the company by her boss Ryotaro (Takahiro Miura) and soon she develops feelings for him.
僕らのごはんは明日で待ってる  「Bokura no gohan wa ashita de matteru」
Release Date: January 07th, 2017
Duration: 109 mins.
Director: Masahide Ichii
Writer: Masahide Ichii (Script), Maiko Seo (Novel)
Starring: Yuto Nakajima, Yuko Araki, Karen Miyama, Amane Okayama, Chieko Matsubara, Hairi Katagiri,
Synopsis: Introvert Ryota (Yuto Nakajima) and extrovert Koharu (Yuko Araki) are both high school students whose unlikely romance begins after a game of rice bag jump. Their romance develops of seven years with meals being the setting for a lot of their important moments.
俺物語!! 「Ore Monogatari!!」
Release Date: October 31st, 2015
Duration: 105 mins.
Director: Hayato Kawai
Writer:  Akiko Nogi (Screenplay), Kazune Kawahara, Aruko (Original Manga),
Starring: Ryohei Suzuki, Mei Nagano, kentaro Sakaguchi, Sawa Suzuki, Yasufumi Terawaki,
Synopsis: Takeo Goda (Ryohei Suzuki) is an ultramasculine guy who I best friends with Makoto Sunakawa (Kentaro Sakaguchi), a bishounen. Takeo is super popular with the guys because of his athletic abilities but the girls ignore him in favour of Makoto. That changes when Takeo saves high school girl Rinko Yamato (Mei Nagano) from a pervert on a train. Takeo falls in love with her but thinks Rinko likes Makoto. This changes when Rinko tracks Takeo down…
黒い十人の女  「Kuroi Junin no Onna」
Release Date: May 03rd, 1961
Duration: 103 mins.
Director: Kon Ichikawa
Writer: Natto Wada (Script) 
Starring: Fujiko Yamamoto, Mariko Miyagi, Tamao Nakamura, Kyoko Kishida, Eiji Funakoshi, Mayumi Kurata,
Synopsis: A TV producer has a wife and nine girlfriends. Sounds difficult to manage and it gets positively murderous when all ten, all of whom are fed up with his behaviour, join forces and plot to kill him…
あの日のオルガン 「Ano Hi no Orugan」
Release Date: February 22nd, 2019
Duration: 119 mins.
Director:  Emiko Hiramatsu
Writer: Emiko Hiramatsu (Screenplay),
Starring: Erika Toda, Sakurako Ohara,Yui Sakuma, Toko Miura, Mayu Hotta, Momoko Fukuchi, Kae Okumura,
Synopsis: It is World War II and in order to help children escape the fire-bombings of Tokyo, a Kindergarten teacher named Kaede Itakura (Erika Toda) and her friend Mitsue Nonomiya (Sakurako Ohara), persuades the parents at the school to allow them to take their children out to Saitama which is where they seek shelter at an abandoned temple.
Release Date: January 30th, 2016
Duration: 123 mins.
Director: Satoko Yokohama
Writer: Satoko Yokohama (Screenplay), Akito Inui (Original Novel)
Starring: Ken Yasuda, Kumiko Aso, Shohei Uno, Yoshiko Mita, Shota Sometani, Hirofumi Arai, Youki Kudoh,
This was directed by Satoko Yokohama and it's her second feature film after a career of shorts which has taken her to film festivals around the world. The film stars Ken Yasuda (When I Get Home, My Wife Always Pretends to Be Dead) and Kumiko Aso (Pulse), two people often cast in supporting roles who are great leads when given the opportunity. It has had many glowing reviews.
Synopsis: Takuji Kameoka (Ken Yasuda) is a 37-year-old bachelor who plays bit-parts and whose only interest is drinking. One day he falls in love with a bar owner (Kumiko Aso) and his boring life begins to change…
アイネクライネナハトムジーク  「Aine Kuraine Nahatomujiku」
Release Date: September 20th, 2019
Duration: 119 mins.
Director: Rikiya Imaizumi
Writer: Kenichi Suzuki (Screenplay) Kotaro Isaka (Novel)
Starring: Haruma Miura, Mikako Tabe, Taizo Harada, Yuma Yamoto, Erika Mori, Shihori Kanjiua, Megumi, Tsubasa Nakagawa,
This is based on short stories by Kotaro Isaka, (Golden Slumber, The Foreign Duck, The Native Duck, and God in a Coin Locker and Fish Story).
Synopsis: Sato (Haruma Miura) is lonely 27-year-old singleton who has been demoted at his job at a market survey company and is pining for a partner. Thanks to his work, he is reduced to handing out questionnaires outside Sendai Station but nobody bites until a woman named Saki walks into his life. She is wearing a black suit and has the word "shampoo" on her hand. Sato feels like this is fate and asks her out and a relationship starts but as 10 years pass, they question why they are together. This is a film about what it takes to sustain a relationship.
僕はイエス様が嫌い 「Boku ha Iesu sama ga kirai」
Duration: 76 mins.
Release Date: May 31st, 2019
Director:  Hiroshi Okuyama
Writer: Hiroshi Okuyama (Screenplay),
Starring: Yura Sato, Kenichi Akiyama, Mari Hatsumi, Yuko Kibiki, Masayasu Kitayama, Chad Mullane, Kouichi Nihei, Hinako Saeki,
Synopsis from the Japan Film Festival Ireland site: When nine-year-old Yura moves from the city to a small town, he immediately feels lonely and isolated in his new environment. All that changes during a school prayer session. Yura opens his eyes, and spots a small, silent Jesus Christ dancing on the altar. The miniature Jesus, who nobody else can see, quickly becomes a regular presence in the young boy's life. He also starts answering Yura's prayers – including one for a new friend. However, the miraculous changes in Yura's fortunes don't last forever. After events take an unexpected turn for the worse, he finds himself questioning how effective his prayers really are.
半世界 「Hansekai」
Running Time: 120 mins.
Release Date: February 15th, 2019
Director:  Junji Sakamoto
Writer: Junji Sakamoto (Screenplay),
Starring: Goro Inagaki, Kiyohiko Shibukawa, Hiroki Hasegawa, Chizuru Ikewaki, Miyako Takeuchi, Aki Sugawara, Keisuke Horibe, Renji Ishibashi,
This one was at the 2018 Tokyo International Film Festival and it took the Audience Award. It is by veteran director Junji Sakamoto (Face, The Projects) and has a good cast especially Chizuru Ikewaki who is great in Being Good and The Light Shines Only There. She is partnered with Hiroki Hasegawa who is so good in Love and Peace, Why Don't You Play in Hell? and Double Life as well as Before We Vanish. They support Goro Inagaki, a former member of SMAP who is in the lead role.
Synopsis: Hiroshi (Goro Inagaki) listlessly lives his life in a small town in Japan after taking over his father's charcoal kiln. He uses it as an excuse to ignore his wife (Chizuru Ikewaki) and his teenage son who is going through a rebellious phase. To take his mind off things, he goes drinking with childhood friend Mitsuhiko (Kiyohiko Shibukawa), a laidback guy who sometimes tells Hiroshi off for ignoring his gamily. One day, Hiroshi's ex-friend Eisuke (Hiroki Hasegawa) comes back to his hometown after a long time in the self-defense force. Eisuke brings a truckload of old wounds back for Hiroshi but he has worries about the soundness of his own mind following his job which makes Hiroshi look at his life again…
今日も嫌がらせ弁当  「Kyo mo Iyagarase Bento」
Release Date: June 28th, 2019
Duration: 106 mins.
Director: Renpei Tsukamoto
Writer: Renpei Tsukamoto (Screenplay), Ttkk (Kaori) (Original Story)
Starring: Ryoko Shinohara, Kyoko Yoshine, Rena Matsui, Kanta Sato, Ryuta Sato,
Synopsis: Kaori (Ryoko Shinohara) is a single mother raising her daughter Futaba (Kyoko Yoshine) alone. Futaba has entered her rebellious phase and ignores her mother so Kaori decides the best way to communicate with her daughter is by creating messages in the bento meals Futaba takes to high school.
凪待ち  「Nagi Machi」
Release Date: June 28th, 2019
Duration: 124 mins.
Director: Kazuya Shiraishi
Writer: Masato Kato (Screenplay), Katsuhisa Minami (Original Story)
Starring: Shingo Katori, Yuri Tsunematsu, Naomi Nishida, Ken Yoshizawa, Takuma Otoo, Lily Franky,
From the director of The Blood of Wolves, Twisted Justice and The Devil's Path comes this bleak-looking thriller.
Synopsis: A man named Ikuo (Shingo Katori) spends his days drinking and gambling and when his debts become too much he is forced to move with his partner Minami (Yuri Tsunematsu) and her daughter to her home–town of Ishinomaki in Miyagi Prefecture. Things get back on track after Minami opens up a beauty salon and he becomes a fisherman and it seems like happiness is within reach for the three but things begin to happen as her ex-husband comes back on the scene and Ikuo gets mixed up with more bad characters and then Minami dies…
パパはわるものチャンピオン 「Papa wa Warumono Chanpion」
Release Date: September 21st, 2018
Running Time: 111 mins.
Director: Kyohei Fujimura
Writer: Kyohei Fujimura (Screenplay), Masahiro Itabashi, Hisanori Yoshida(Picture Book)
Starring: Hiroshi Tanahashi, Yoshino Kimura, Riisa Naka, Kokoro Terada, Yo Oizumi, Ryohei Otani,
Synopsis: Professional wrestler Hiroshi Tanahashi stars as Takashi Omura, a man who was once a hero in the wrestling ring but after suffering an injury, he is forced to play a villain and wears a cockroach mask to do his bad guy routine. He and his wife Shiori (Yoshino Kimura) haven't told their son Shota (Kokoro Terada) what papa does for a living so the young lad has the shock of his life when he discovers he is a pro-wrestler and a villainous one at that! The little boy feels a sense of shame…
ぼけますから、よろしくお願いします。 「Bokemasukara, yoroshiku onegaishimasu」
Release Date: November 03rd, 2018
Duration: 102 mins.
Director:  Naoko Nobutomo
Writer: N/A
Starring: N/A
Synopsis: After a career as a television director, Naoko Nobutomo crosses over to movies with a personal documentary chronicling the enduring love and resilience of her elderly parents in Kure, Hiroshima as her mother's Alzheimer's-related dementia gradually worsens. Filmed over several years, Nobutomo interweaves direct documentation with intimate home movies of her parents, including their support during her battle with breast cancer.
きみの鳥はうたえる 「Kimi no tori wa utaeru」
Release Date: September 01st, 2018
Duration: 119 mins.
Director: Sho Miyake
Writer: Sho Miyake (Screenplay), Yasushi Sato (Novel)
Starring: Shota Sometani, Tasuku Emoto, Shizuka Ishibashi, Makiko Watanabe, Ai Yamamoto,
A film based on a novel by Yasushi Sato is usually something to take notice of after a series of good to great adaptations. Nobuhiro Yamashita's Over the Fence is good, while Sketches of Kaitan City by director Kazuyoshi Kumakiri, and Mipo Oh's The Light Shines Only There are great. The three are set in the author's native city of Hakodate in the north of Japan but this film was originally set in Tokyo before being relocated to Hakodate. There's a great cast with Shota Sometani (Himizu), Shizuka Ishibashi (The Tokyo Night Sky Is Always the Densest Shade of Blue), and Tasuku Emoto (Dynamite Graffiti). Here is my review.
Synopsis: The unnamed protagonist (Tasuku Emoto), simply referred to in the credits as "Boku" is a slacker who works at a bookstore while sharing an apartment with his unemployed friend, Shizuo (Shota Sometani). "Boku" begins dating his co-worker Sachiko (Shizuka Ishibashi) and she gets roped into his hang-about life, but Shizuo soon gets involved and a love triangle develops…
鈴木家の嘘 「Suzukike no Uso」
Release Date: November 16th, 2018
Duration: 133 mins.
Director:  Katsumi Nojiri
Writer: Katsumi Nojiri (Screenplay),
Starring: Ittoku Kishibe, Hideko Hara, Mai Kiryu, Ryo Kase, Nahoko Yoshimoto, Shohei Uno, Chiaki Kawamo, Nao Omori, Kayoko Kishimoto,
Here is my review.
Synopsis: The Suzuki family is pretty modest. There is father Sachio (Ittoku Kishibe), mother Yuko (Hideko Hara), son Koichi (Ryo Kase) and daughter Fumi (Mai Kiryu). Koichi is a hikikomori but at least he's alive. Then, one day, he isn't. Without the least warning he commits suicide. Yuko is so shocked by her son's death she loses her memory which leads Fumi to lie to her in order to preserve her sanity when she wakes up. That lie is pretty big, "Koichi stopped being a hikikomori, got better and now works in Argentina". The drama begins as they wonder how do they keep up that story and will they be able to come to terms with his death…
影踏み  「Kagefumi」
Release Date: November 15th, 2019
Duration: 112 mins.
Director: Tetsuo Shinohara
Writer: Tomoe Kanno (Screenplay), Hideo Yokoyama (Novel)
Starring: Masayoshi Yamazaki, Machiko Ono, Takumi Kitamura, Kenichi Takito, Shingo Tsurumi, Shinobu Otake, Pistol Takehara, Yuri Nakamura, Ryoko Fujino, Akiyoshi Nakao,
Synopsis: When a thief enters a house late at night, he disturbs a murder/arson attempt by a woman in the place. The thief stops her and gets drawn into a crime that occurred 20 years ago… 
The House Where The Mermaid Sleeps   
人魚の眠る家 「Ningyo no Nemuru Ie」
Release Date: November 16th, 2018
Duration: 120 mins.
Director:  Yukihiko Tsutsumi
Writer: Eriko Shinozaki (Screenplay), Keigo Higashino (Original Novel)
Starring: Ryoko Shinohara, Hidetoshi Nishijima, Kurumi Inagaki, Kentaro Sakaguchi, Rina Kawaei, Sayaka Yamaguchi, Min Tanaka,
Synopsis: Kaoruko Harima (Ryoko Shinohara) and her husband Kazuaki (Hidetoshi Nishijima) have two children but live separately from each other. Kaoroku takes care of them and they are preparing to divorce after their daughter's exam for elementary school. However, an accident in a pool leaves their daughter brain dead and with no chance to recover. The couple are faced with two tough choices: donate Mizuho's organs to others in need or wait until Mizuho's heart stops beating.
映画 賭ケグルイ 「Eiga Kakegurui」
Release Date: May 03rd, 2019
Duration: 119 mins.
Director:  Tsutomu Hanabusa
Writer: Minato Takano, Tsutomu Hanabusa (Screenplay), Homura Kawamoto, Toru Naomura (Manga)
Starring: Aoi Morikawa, Minami Hamabe, Mahiro Takasugi, Ruka Matsuda, Natsumi Okamoto, Miki Yanagi, Elaiza Ikeda,
Synopsis: Hyakkaou Private Academy is the battleground for the sons and daughters of the elite to gamble. Money and fame await the winners as does dominance over the losers so it's all high-stakes but then a mysterious transfer student named Yumeko Jabami (Minami Hamabe) arrives at the place and the bets increase to astronomical levels as she reveals that, under her pretty facade, she's a gambling maniac.
きみと、波にのれたら  「Kimi to, Nami ni Noretara」
Release Date: June 21st, 2019
Duration: 94 mins.
Director: Masaaki Yuasa
Writer: Reiko Yoshida (Screenplay/Original Creator),
Starring: Rina Kawaei (Hinako Mukaimizu), Ryota Katayose (Minato Hinageshi), Honoka Matsumoto (Yoko Hinageshi), Kentaro Ito (Wasabi Kawamura)
Animation Production: Science SARU
Music: Michiru Oshima
This was screened at the Annecy International Animation Festival and Fantasia in 2019.
Synopsis: Hinako moves to a coastal town to attend university. While there she can indulge her passion for surfing, something which washes away her uncertainty about her future. When a fire breaks out in town, Hinako encounters the young firefighter Minato. As they surf and spend more time together Hinako feels drawn to someone like Minato who devotes himself to helping other people. Hinako also holds a special place in Minato's heart, and when he suddenly drowns while out surfing alone, he comes back to her as a ghost trapped in water. As everyone else gets over Minato's death and tries to move on, Hinako comes to depend on his spirit.
A variety of these films will be screened in the following cities:
CARDIFF
CHESTER
COLCHESTER
DERBY
DUNDEE
EDINBURGH
EXETER
INVERNESS
KENDAL
LEICESTER
LEWES
LONDON
MANCHESTER
NEWCASTLE UPON TYNE
NOTTINGHAM
SHEFFIELD