The Tokyo International Film Festival (TokyoIFF) finished yesterday with an award ceremony (results) that celebrated various strands programme including Japanese movies (see this preview). Awards were aplenty in the 90 minute ceremony, beginning with the Tokyo Gemstone Award for new talents which went to Josefine Frida, Sairi Ito, Riru Yoshina and Yui Sakuma. The Lifetime Achievement awards were already announced and went to director Nobuhiko Obayashi and actor Tatsuya Nakadai.
The Competition section had two Japanese titles but the majority of awards went to international films. Uncle, the Danish film from director Frelle Petersen, was awarded the Tokyo Grand Prix after having had its world premiere in Tokyo. Winner of the second-place Special Jury Prize was the Ukrainian film Atlantis. Best Director went to Iran's Saeed Roustaee for 6.5. The Best Screenplay award went to Shin Adachi's A Beloved Wife.
Taking to the stage to announce the award was Julie Gayet who said that the awards went to, "a scriptwriter that made us look into his complicated private life with a lot of humour and laughter that made his film universal".
喜劇 愛妻物語 「Kigeki Aisai Monogatari」
Release Date: 2020
Duration: 76 mins.
Director: Shin Adachi
Writer: Shin Adachi (Screenplay/Novel)
Starring: Gaku Hamada, Asami Mizukawa, Chise Niitsu, Eri Fuse, Kaho, Kayoko Ookubo, Ken Mitsuishi,
Shin Adachi is best known for his script for 100 Yen Love (2014) and has worked on other projects, including directing a warmly received comedy 14 That Night (2016). He adapts his autobiographical novel for his sophomore film as a director and it was produced by Aoi Pro, whose works include Shoplifters (2018) and The Long Excuse (2016).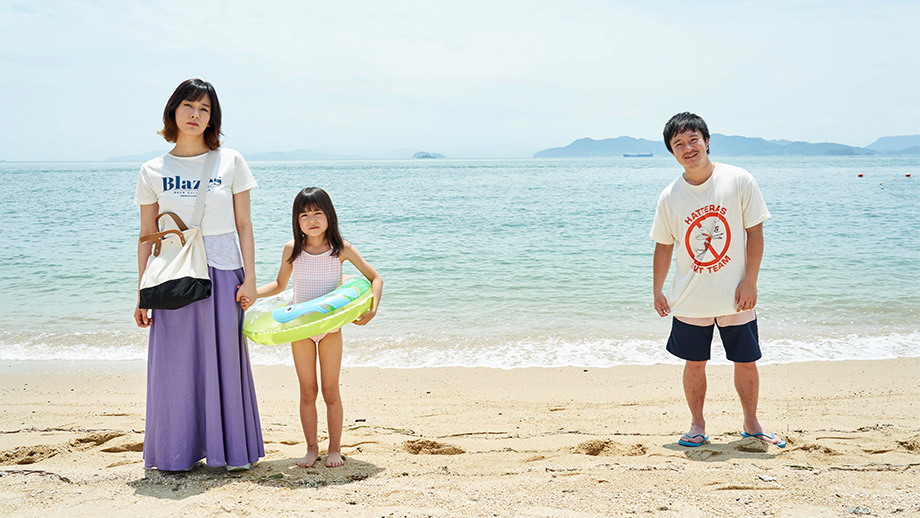 Synopsis: Gota Yanagida (Gaku Hamada) is a scriptwriter with a family and a desperate need for a hit film. His wife of 10 years, Chika (Asami Mizukawa), is the family breadwinner and very unhappy about their lack of money. His daughter Aki (Chise Niitsu) is beginning to view him as a bit of a loser. His desperation for a break is finally answered when a film producer tasks Gota with writing a screenplay for his story of "a high school girl who makes udon noodles at a tremendous speed". Gota has a chance to travel to Kagawa Prefecture to write a screenplay and so he persuades Chika and Aki to go with him, but when he arrives he discovers a different film project has already been decided…
Adachi took the award and thanked the programming director for allowing a comedy to be entered into the Competition and, in explaining the background of his project, assured the audience that while it is based on his life, the leading lady and man do, in no way represent his them, it's the actors.
---
Japanese Cinema Splash
The Japanese Cinema Splash section for Japanese indie films featured eight titles, two notable for being political documentaries, and plenty of dramas. This provided a complicated job for the jury to narrow down the candidates for the awards.
The Best Film award went to Tatsuya Mori's documentary i – Documentary of the Journalist.
Nam Dong-Chul, programme director at the Busan International Film Festival, was a member of the jury and he was present to give the award to director Tatsuya Mori. In his review he summed up why the film was selected:
"This film introduces an unforgettable female character described with depth and it also introduces Japanese social issues [in a way] that is appealing to the world."
i -Documentary of the Journalist-
i-新聞記者ドキュメント- 「I – shinbun kisha dokyumento –」
Release Date: November 15th, 2019
Duration: 120 mins.
Director: Tatsuya Mori
Writer: N/A
Starring: Isoko Mochizuki
Tatsuya Mori is a documentarian famous for the films A (1998), 311 (2011) and Fake (2016). He also acted as producer on The Journalist (2019) which is based on a book by the real-life female journalist, Isoko Mochizuki. She forms the centre of this film as she pursues the truth.
Synopsis: Traditional news media is in a spin as social media, financial forces and political tribalism batter them around. Maybe film documentary might be the best place for news if not for some of brave journalists still working for newspapers who are unafraid to look for the truth. Isoko Mochizuki of The Tokyo Shimbun is one of them as she asks all the awkward questions that keep those in power on their toes and ferrets out the truth. This in a country which is still patriarchal, in an industry which is male-dominated, in a media environment that prefers not to challenge those in power lest they lose access to government press conferences. Here's an article about her in The New York Times (written by Motoko Rich) which gives an excellent overview of the environment she works in.
Tatsuya Mori stepped onto the stage in rather normal attire at such a formal affair and made a joke of it, apologising for looking like he's dressed like he's going to a video rental shop in his neighbourhood.
The meat of his speech went on to thanking everyone involved and stating how documentary is important, acknowledging the presence of Kazuo Hara with his movie Reiwa Uprising but managed to lace in some jokes amidst the serious critiques.
"I think documentary is really fun and it gets to portray how the media is positioned so the audience gets to see that as well. I believe that the air we feel in Japan, especially about speech and expression, that we're quite suppressed. I would like to say thank you to the programme directors. You may have a difficult time but it's your responsibility so you will have to live with it."
The film's producer, Mitsunobu Kawamura, talked a little about the background, how he wanted to screen this film alongside The Journalist but couldn't.
"I believe that this film depicts the hollowness that we feel working in the media and it is also a good expression of what is taking place in Japanese society right now and I believe it is the role of film to try and bring these issues to the fore."
Here's a Q&A report from the film's screening at the festival (English language).
---
Best Director went to Hirobumi Watanabe for Cry. The judges said that they would remember the film a year from now and there was unanimous agreement on who should win Best Director.
Director Akiko Ooku congratulated those involved in the making of the film strong and praised "a unique vision [that] also made us recall warm emotions and it was a very interesting film".
叫び声 「Sakebigoe」
Release Date: N/A
Duration: 75 mins.
Director: Hirobumi Watanabe
Writer: Hirobumi Watanabe (Screenplay),
Starring: Hirobumi Watanabe, Riko Hisatsugu, Keita Hisatsugu, Nanaka Sudo, Takanori Kurosaki, Gaku Imamura, Yuji Watanabe, Misao Hirayama,
I met the Watanabe brothers and their cinematographer at the 2014 Raindance Film Festival's screening of And the Mud Ship Sails Away and I got their autographs. Little did I suspect that they would turn into familiar faces at the Tokyo International Film Festival as they get backing from the event to keep produce their brand of offbeat comedy shot in black-and-white. It's an alternative to the urban voices and a lot of sideways fun.
Synopsis: A man who lives with his ageing grandmother works silently in a pigpen…
Hirobumi Watanabe explained the background to the film, how it is a family affair with his brother, parents and grandparents among those who worked on the film in their home Prefecture of Tochigi, and, in the most moving part of the ceremony, he went on to pay emotional tribute to his grandmother who passed away in August at the age of 102 saying he believed he was able to get the award because of her.
I watched the awards as they were screened live just before work. Here's a link to a video.