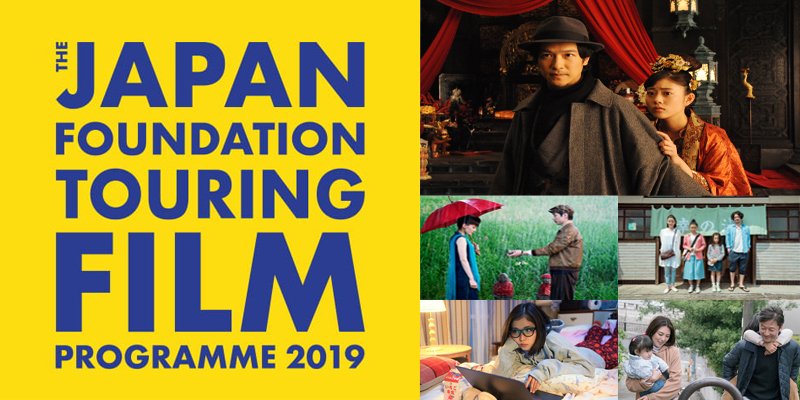 The Japan Foundation have announced the details of their next Touring Film Programme and it is full of fantastic films! The tour lasts from February 02nd to March 28th and the theme that connects them all is "love". The stories address that emotion in a variety of ways through a broad variety of relationships. Love can be found in all shapes and sizes and it can also be an absence. What cannot be denied is that it is a powerful emotion and there are many powerful films that display this.
Amidst the works are stories of couples struggling to relate to each other, a father and his children overcoming differences, brothers and sisters who barely get along, a wife struggling with a husband that has no affection for her, a gay couple who run a law firm who support those on the margins of society and more.
Expect to understand the complexities of Japan, from Tokyo to Osaka and Aguni (an island off Okinawa) and further afield. I'm definitely going to see some of these before I jet off to Japan again.
Here are the films:
愛と法 「Ai to hou」    
Running Time: 94 mins.
Release Date: 2018
Director:  Hikaru Toda
Writer: N/A
Starring: Kazuyuki Minami, Masafumi Yoshida, Yae Minami, Kazumi Tsujitani, Rokudenashiko, Hiroko Tsujitani, Masae Ido, Natsuo Yamamoto,
Hikaru Toda is a documentary director/editor based in London and Osaka who has had her worked screened on BBC Storyville, France Televisions, NHK, The Guardian and at major international film festivals, including Hot Docs, CPH DOX and Melbourne International Film Festival. Hikaru moved back to Japan for the first time in 22 years to make Of Love & Law. Here's my review. This is a truly wonderful film and one of my favourites of the year.
It was premiered at the Tokyo International Film Festival last year before it went on its global journey, heading to Ireland, the Philippines, Germany at Nippon Connection, America at Japan Cuts and now London. Here's the Kickstarter trailer I used for Tokyo:
Here's a trailer:
Synopsis: Fumi and Kazu are partners in love and law; they run the first law firm in Japan set up by an openly gay couple. Together for 15 years, the lawyers want to raise a family of their own in a country where their partnership has no legal recognition or protection. Driven by their own experience of being 'outsiders', they attract a range of clients who reveal the hidden diversity of a country that prides itself on its obedience, politeness and conformity. Tired of being silenced and made to feel invisible, the lawyers and their misfit clients expose and challenge the archaic status quo.
グッド ストライプス 「Guddo Sutoraipusu」
Release Date: May 30th, 2015
Running Time: 119 mins.
Director: Yukiko Sode
Writer: Yukiko Sode (Screenplay)
Starring: Akiko Kikuchi, Ayumu Nakajima, Asamu Usuda, Itsuki Sagara, Yu Nakamura, Yuko Yamamoto,
Synopsis: Midori Mantani (Kikuchi) and Masao Minamisawa (Nakajima) have been dating for years, but their relationship seems stale to the point that they think about breaking up. They change their minds when Midori becomes pregnant! They decide to marry.
They now choose this as the time to truly get to know each other and explore their backgrounds. Masao comes from a wealthy family of artists and doctors who lived in Tokyo and Midori grew up with parents who ran an iron factory in a provincial city that didn't offer much in terms of culture.
The more they get to know each other the better their relationship gets.
友罪  「Yuuzai」
Running Time: 129 mins.
Release Date: May 25th, 2018
Director:  Takahisa Zeze
Writer: Takahisa Zeze (Screenplay), Gaku Yakumaru (Original Manga)
Starring: Toma Ikuta, Eita, Kaho, Yasuko Tomita, Mizuki Yamamoto, Koichi Sato, Eita Okuno, Kaoru Iida,
Toma Ikuta, the lead in Close-Knit (2017) takes on the role of a failed journalist whose newshound instincts fire up once again and get him dragged into a darker murder mystery.
Synopsis: Junichi Masuda (Toma Ikuta) is the new guy at a factory in a small town. He's pretty honest about his background. He failed in his attempt to become a journalist and isn't sure what to do next. His co-worker Hideto Suzuki (Eita) is the complete opposite. Secretive and a bit of a loner, Suzuki doesn't open up about his past. However, he slowly becomes friends with Junichi. This happens around the time that a child is killed in a nearby town. Masuda researches into that case and a series of child murders from 17 years ago and stumbles across an image of a boy who looks like Masuda... He decides to write an article on Masuda while befriending him and discovers a disturbing story.
洗骨 「Senkotsu」
Running Time: 111 mins.
Release Date: 2018
Director:  Toshiyuki Teruya
Writer: Toshiyuki Teruya (Screenplay),
Starring: Ayame Misaki, Eiji Okuda, Michitaka Tsutsui, Yoko Oshima, Akira Sakamoto, Kyutaro Suzuki, Mariko Tsutsui,
This film was originally a short before being expanded into a feature film. It explores the "senkotsu ceremony", an Okinawan custom involving the cleansing of the bones of the dead by relatives and loved-ones in seawater or sake after burial in the ground or open air, and then re-burying the bones. This ceremony passes on life from the dead to the living and the film uses it to show how a matriarch unites a family even in her death. Here's my review.
Trailer for the feature:
Here's one for the short:
Synopsis: Yuko Shinjo (Ayame Misaki) has taken a vacation from her job as a hairdresser in Nagoya to head home. She is pregnant and alone but that's not going to stop her journey to Aguni Shima, a small island which lies to the west of the Okinawa. It is here that Senkotsu is still performed even though it is a tradition that has largely died out. Her mother Emiko recently passed away and so she will perform the ceremony with her family, her father Nobutsuna (Eiji Okuda), who is quietly devastated and nursing his grief with alcohol while living alone, and her argumentative older brother Tsuyoshi (Michitaka Tsutsui). Rumours swirl around the family but friends come to their defence as the trio find the time to face each other and themselves and overcome their individual hardships.
勝手にふるえてろ 「Katte ni Furue tero」
Running Time: 117 mins.
Release Date: December 23rd, 2017
Director:  Akiko Ooku
Writer: Akiko Ooku (Screenplay), Risa Wataya (Original Novel)
Starring: Mayu Matsuoka, Daichi Watanabe, Takumi Kitamura, Anna Ishibashi, Kanji Furutachi, Hairi Katagiri,
A person obsessed with ammonites? How quaint. However, I can't ready the synopsis for this and not think about the Junji Ito manga Uzumaki.  This one was at the Tokyo International Film Festival where it won the Audience Award.
Synopsis: Yoshika (Mayu Matsuoka) is 24-years-old with a fairly unique hobby: she likes researching ammonite fossils and collects them. Perhaps this explains why she doesn't have a boyfriend in her life. Or maybe the lack of a man is down to the fact that she pines for her first love, a guy from school named Ichi. One day, Ni, a guy who works at the same company, confesses his feelings for her.
犬猿 「Kenen」
Running Time: 106 mins.
Release Date: February 10th, 2018
Director: Keisuke Yoshida
Writer: Keisuke Yoshida (Screenplay),
Starring: Masataka Kubota, Hirofumi Arai, Keiko Enoue, Miwako Kakei, Ryohei Abe, Aisa Takeuchi, Katsuya Kobayashi, Takenori Goto,
Keisuke Yoshida is good at dramedies featuring mismatched people or awkward individuals. Sankaku, The Workhorse & Big Mouth, and My Little Sweet Pea which I saw at an earlier instalment of the Japan Foundation's Touring Film Programme. His latest looks really good.
Synopsis: Hard-working and smart Yuria Ikuno (Keiko Enoue) runs a small printing company. Despite her best efforts, she can't seem to attract the attention of a polite but aloof client named Kazunari Kanayama (Masataka Kubota). Kazunari really likes Yuria's younger sister Mako Ikuno (Miwako Kakei) who is attractive and outgoing and a little ditzy. Meanwhile, Kazunari has his hands full with Takuji (Hirofumi Arai), his rough-hewn brother who was recently released from prison and is crashing at his apartment.
南瓜とマヨネーズ 「Kabocha to Mayone-zu」
Running Time: 93 mins.
Release Date: November 11th, 2017
Director:  Masanori Tominaga
Writer: Masanori Tominaga (Screenplay), Kiriko Nananan (Original Manga)
Starring: Asami Usuda, Taiga, Joe Odagiri, Ryuya Wakaba, Koudai Asaka, Ritsu Otomo, Kurumi Shimizu, Ken Mitsuishi, Sario Okada, Emina Kondo,
Masanori Tominaga (Rolling) assembles a great cast with Asami Usada (The Woodsman and the Rain) in a love triangle with Joe Odagiri (Mushishi, Over the Fence) and Taiga (Japanese Girls Never Die).
Synopsis: Tsuchida (Asami Usuda) lives with her boyfriend Seiichi (Taiga). He is an aspiring musician but he has no job and is struggling to write new songs. Tsuchida decides to work at a hostess club to support them both but doesn't inform Seiichi. Things blow up when she gets herself involved with her customer Yasuhara (Ken Mitsuishi) and Seiichi finds out. Arguments ensue and he decides to get a job but around this time, Tsuchida runs into her ex-boyfriend Hagio (Joe Odagiri)…
幼な子われらに生まれ 「Osanago Warera ni Umare」
Running Time: 127 mins.
Release Date: August 26th, 2017
Director:  Yukiko Mishima
Writer: Haruhiko Arai (Screenplay), Kiyoshi Shigematsu (Original Novel)
Starring: Tadanobu Asano, Rena Tanaka, Kankuro Kudo, Shinobu Terajima, Sara Minami, Miu Arai, Raiju Kamata, Shingo Mizusawa, Narushi Ikeda,
This is a hard-hitting family drama where the actors consistently build up characters who offer a fascinating portrait of a patchwork family in modern Japan and offers up a lot of nuance for its characters. It's held down by standout performances by Tadanobu Asano (Bright Future, Survive Style 5+) and Shinobu Terajima (Vibrator). Here's my review.
Synopsis: Dear Etranger is based on a novel by Kiyoshi Shigematsu and tells the tale of 40-year-old Makoto Tanaka (Tadanobu Asano), an assistant manager at a company trying to balance two families and be an ideal father at a time when others give him or are going through crises. Free from melodrama and idealism, it paints a believable picture of the stresses and strains of maintaining a loving family unit built from the scraps of past relationships.
DESTINY 鎌倉ものがたり 「DESTINY Kamakura Monogatari」
Running Time: 129 mins.
Release Date: December 09th, 2017
Director:  Takashi Yamazaki
Writer:  Takashi Yamazaki (Screenplay), Ryohei Saigan (Original Manga)
Starring: Masato Sakai, Mitsuki Takahata, Shinichi Tsutsumi, Sakura Ando, Min Tanaka, Tamao Nakamura, Mikako Ichikawa, Jun Kunimura, Tomokazu Miura,
Masato Sakai (Key of Life) and Mitsuki Takahata (Japanese Girls Never Die) take the lead in this charming-looking magical mystery film. She's got a lot of great support from Min Tanaka (Haruneko, Maison de Himiko), Mikako Ichikawa (Rent-a-Cat), Sakura Ando (100 Yen Love) and Jun Kunimura and Shinichi Tsutsumi (both in Why Don't You Play in Hell?)
Synopsis: Kamakura is the ancient capital of Japan and the place where ghosts, demons, and youkai appear on a daily basis. Akiko (Takahata) is the freshly-minted wife of the mystery writer Masakazu Ichimoku (Sakai) and she gets a surprise every day with her supernatural neighbours. She also sees her husband help the police investigate difficult cases involving monsters and ghosts and she soon gets caught up in a case of her own…
パパのお弁当は世界一「Papa no Obento wa Sekai Ichi」
Running Time: 76 mins.
Release Date: June 10th, 2017
Director: Masakazu Fukatsu
Writer: Toshitsugu Ono (Screenplay),
Starring: Toshimi Watanabe, Rena Takeda, Sho Kiyohara, Hikaru Tanaka, Yura Someno, Eriko Kumagai,
Based on a true story, this takes a story of a man who refuses to be an absent father and tries to connect with his daughter while taking on a role that is seen as something women do. Rena Takeda (Poetry Angel) is the daughter.
Synopsis: Based on a true story, or should that be a Tweet which was re-Tweeted by 80,000 people and liked by 260,000 people on Twitter, this is a tale of a father (Watanabe Toshimi) who made a bento lunch for his daughter Midori (Takeda Rena) every single day of her time in high school. It's bad at first but as his skill grows, so does her appreciation and the two busy people bond over this important meal.
ペンギン・ハイウェイ 「Pengin Haiuei」
Release Date: August 18th, 2017
Running Time: 119 mins.
Director: Hiroyasu Ishida
Writer: Makoto Ueda (Screenplay), Tomihiko Morimi (Original Script)
Starring: Kana Kita (Aoyama), Yuu Aoi (Mysterious Lady), Hidetoshi Nishijima (Aoyama's Father), Megumi Han (Hamamoto), Naoto Takenaka (Hamamoto's Father),
Animation Production: Studio Colorido
Synopsis: Aoyama is an elementary school student who makes notes in his diary every day. His town is quiet but his heart races every so often because he has a crush on a mysterious older woman who works as a dental assistant. One day, a group of penguins appears in his quiet suburban neighbourhood and Aoyama and the older lady want to discover the reason for their appearance.
羊の木 「Hitsuji no ki 」
Running Time: 126 mins.
Release Date: February 03rd, 2018
Director: Daihachi Yoshida
Writer: Masato Kagawa (Screenplay), Tatsuhiko Yamagami, Mikio Igarashi (Original Manga),
Starring: Ryo Nishikido, Fumino Kimura, Kazuki Kitamura, Yuka, Mikako Ichikawa, Shingo Mizusawa, Min Tanaka, Ryuhei Matsuda, Tamae Ando,
Website IMDB
Daihachi Yoshida of The Kirishima Thing fame is back with this murder mystery which is a strong dramedy about secrets and redemption. It has a fantastic cast such as Mikako Ichikawa (Rent-a-neko) and Ryuhei Matsuda (Gohatto, Before We Vanish) but Ryo Nishikido is the big draw for many because he's an idol. Here's my review. 
Synopsis: Thanks to a government program, the small seaside town of Uobuka gets six strangers into the community. They include a scary fisherman (Kazuki Kitamura), a methodical cleaning woman (Mikako Ichikawa), and a simple-minded deliveryman (Ryuhei Matsuda). All are under the supervision of local government official Hajime Tsukisue (Ryo Nishikido) who gets reports of suspicious behaviour. When he finds out who these people are and their criminal backgrounds, a body is discovered in the harbour and Tsukisue suspects one of the newcomers committed murder… 
 箱入り息子の恋   「Hakoiri Musuko no Koi」
Release Date: June 08th, 2013
Running Time: 117 mins.
Director: Masahide Ichii
Writer: Masahide Ichii, Takahiro Tamura (Screenplay),
Starring:  Gen Hoshino, Kaho, Sei Hiraizumi, Ryoko Moriyama, Ren Osugi, Hitomi Kuroki, Shuntaro Yanagi, Honoka, Kanji Furutachi, Miyako Takeuchi
I saw the trailer for this a couple of months back. It's blend of romance and drama looked interesting primarily because of the two leading characters, one who is an introvert and the other who is blind. Around all of the shouting and crying looked to be a story where and it has some great comedy moments as the trailer reveals. It stars Gen Hoshino (Why Don't You Play in Hell), Kaho (Puzzle), Ren Osugi (Exte), Hitomi Kuroki (Kaidan, Dark Water), and Kanji Furutachi (The Woodsman and the Rain, GFP Bunny).
Synopsis: Kentaro Amanoshizuka (Hoshino) is a 35-year-old with no friends and a modest job in city hall. His life seems stuck in a rut as he still lives with his parents and there are of signs of him getting a promotion in work or socialising with anyone. His parents (Hiraizumi and Moriyama) worry and so they go to a parental matchmaking event hoping to find a woman for their son. Only one couple approaches them. The husband is Akita Imai (Osugi), a man who runs a successful company and after exchanging profiles with Toshi Amanoshizuka he believes that Kentaro is not worthy of his daughter who is blind. Kentaro and Kaho still meet up one fateful day. Can they be together?
恋人たち 「Koibito-tachi」
Duration: 140 mins
Director: Ryosuke Hashiguchi
Writer: Ryosuke Hashiguchi
Starring: Atsushi Shinohara, Toko Narushima, Ryo Ikeda, Ken Mitsuishi, Lily Franky, Hana Kino, Tamae Ando, Chika Uchida,
This one was at the Vancouver International Film Festival 2015 and I have seen one review but it's a glowing one that talks up the great characters, drama, and originality. The three central characters on screen are a frumpy put-upon housewife, a gay lawyer, and a repairman/widower and their stories interconnect. Non-professional/untried actors are in the lead roles but they are surrounded by character actors such as Tamae Ando (Ordinary Everyday), and Ken Mitsuishi and also Lily Franky.
Synopsis from Japan Foundation: The film is made up of three vignettes that tell very different stories of love.
Unfulfilled and exploited housewife, Toko (Toko Narushima), is trapped in a loveless marriage with a husband disinterested in how his mother treats his wife. An encounter with a sympathetic scam artist offers respite from a life lacking all affection.
An intuitive bridge inspector (Atsushi Shinohara) had been widowed in a brutal and random murder of his wife three years prior. Grief-stricken and obsessed with fantasies of revenge, his heartbreak sends his life in a downward spiral.
Shinomiya is an elite lawyer with an inflated ego who enjoys mistreating his younger male lover. But when his life comes crashing down, he seeks refuge with a school friend he once loved.
湯を沸かすほどの熱い愛 「Yu wo wakasuhodo no atsui ai」
Running Time: 125 mins.
Director:  Ryota Nakano
Writer: Ryota Nakano (Screenplay),
Starring: Rie Miyazawa, Hana Sugisaki, Taro Suruga, Aoi Ito, Tori Matsuzaka, Joe Odagiri, Yukiko Shinohara,
This was at the Tokyo International Film Festival last year and reviews like this one paint a picture of a great family drama thanks to the actors Rie Miyazawa (Pale Moon, Twilight Samurai), Joe Odagiri (Bright Future, Mushishi), and Hana Sugisaki (Pieta in the Toilet).
Synopsis: Futaba and her daughter Azumi live in a house connected to their family-run bathhouse in a small town. Their used to be three people in their family but husband and father Kazuhiro left them for another woman and since then, the bathhouse has been closed. Everything changes when Futaba is diagnosed with terminal cancer, giving her only months to live. The approach of death fires her up to make the most of her remaining time. She develops a head of steam and becomes determined to reunite her family, reopen the bathhouse, and take care of her daughter. Her journey will uncover new friends and secrets as she makes peace with the world before leaving it.
今夜、ロマンス劇場で 「Konya, Romansu Gekijou de」
Running Time: 108 mins.
Release Date: February 10th, 2018
Director: Hideki Takeuchi
Writer: Keisuke Uyama (Screenplay),
Starring: Haruka Ayase, Kentaro Sakaguchi, Tsubasa Honda, Kazuki Kitamura, Akiyoshi Nakao, Anna Ishibashi, Akira Emoto, Go Kato,
Haruka Ayase (Our Little Sister) plays a screen legend popping off the screen and into the life of a wannabe director in this charming fantasy which is an ode to Japanese films.
Synopsis: It is the 1960s and television is sucking away the audiences for Japanese cinema. This does not deter Kenji (Kentaro Sakaguchi), a struggling assistant director who is looking for his big break. He uses his free time at a theatre watching long-forgotten black-and-white films and he is a big fan of The Tomboy Princess, with the heroine Princess Miyuki (Haruka Ayase) being a main attraction. A power outage hits one screening and fate steps in to cause Princess Miyuki to step off the screen. True to her on-screen persona, she is feisty and physically monochrome and shakes up Kenji's world and it seems a romance might be in their developing narrative…
ユリゴコロ 「Yurigokoro」
Running Time: 128 mins.
Release Date: September 23rd, 2017
Director: Naoto Kumazawa
Writer: Naoto Kumazawa (Screenplay), Mahokaru Numata (Original Story),
Starring: Ken'ichi Matsuyama, Yuriko Yoshitaka, Tae Kimura, Tori Matsuzaka, Nana Seino, Aimi Satsukawa, Kaya Kiyohara,
Ken'ichi Matsuyama, fantastic in Rage and Shindo, takes the lead in this murder mystery which has a great cast including Tae Kimura (Neko Atsume no Ie, Starfish Hotel) and Yuriko Yoshitaka (Noriko's Dinner Table).
Synopsis: Everything in life is on track for Ryosuke (Tori Matsuzaka). He has opened a restaurant and it has become a hit and and he is about to be married to his beautiful fiancée. Then his father declares he has late-stage pancreatic cancer and his girl vanishes. Ryosuke is shaken and goes through his father's belongings and discovers a diary and within its pages he reads a seemingly incriminating entry: "Without remorse, I take a life…" Is the passage a fictional account or the biographical memoir of a murderer? 
煙突の見える場所 「Entotsu no mieru basho」
Running Time: 108 mins.
Release Date: 1953
Director: Heinosuke Gosho
Writer: Hideo Oguni (Screenplay), Rinzo Shiina (Original Story),
Starring: Kinuyo Tanaka, Ken Uehara, Hideko Takamine, Hiroshi Akutagawa, Chieko Seki, Ranko Hanai, Takeshi Sakamoto,
Synopsis: Based on Rinzo Shiina's absurdist novel and winner of a special prize at the Berlin Film Festival in 1953, the film is set around 1950s Tokyo. Ryukichi (Ken Uehara) and Hiroko (Kinuyo Tanaka) are a married couple who live in a ramshackle house. They have lodgers living with them but they are desperately poor and go to complicated lengths to avoid unwanted pregnancies especially because Ryukichi works in a low paid job. Hiroko, a war widow before she met Ryukichi, is a survivor and so she secretly takes on a part-time job which aggravates Ryukichi who senses that his wife is hiding something from him. The couple and their lodgers find their lives turned upside down when someone who claims to be Hiroko's first husband leaves a child on their doorstep.
A variety will be screened in the following cities from February 02nd to March 28th, 2019:
BELFAST
BRISTOL
CHESTER
COLCHESTER
DERBY
DUNDEE
EDINBURGH
EXETER
INVERNESS
KENDAL
LEICESTER
LEWES
LONDON
MANCHESTER