The International Film Festival Rotterdam 2018 runs from  January 24th to February 04th and it includes a massive amount of titles which all look really special. Some are so new, there's little information. Without further ado, here are the titles!
One of my favourite films of last year will head up this list, it's in the Maximum Overdrive section under Maximum Overdrive where titles feature "Maximalism in the extreme. Films, performances and an installation bring together different disciplines in a swirling mash-up of contemporary pop culture."
The Night is Short, Walk on Girl
夜は短し歩けよ乙女 「Yoru wa Mijikashi Aruke yo Otome」
Release date: April 07th, 2017    
Running Time: 93 mins.
Director: Masaaki Yuasa
Writer: Masaaki Yuasa, Reiko Yoshida (Screenplay) Tomihiko Morimi (Original Novel),
Animation Production: Science SARU
Starring: Kana Hanazawa (Kurokami no Otome), Gen Hoshino (Senpai), Kazuya Nakai (Seitarou Higuchi), Yuuko Kaida (Ryouko Hanuki), Nobuyuki Hiyama (Johnny), Aoi Yuuki (Princess Daruma), Junichi Suwabe (Nise Jougasaki),
The Night is Short, Walk on Girl is the latest film from anime auteur Masaaki Yuasa and his studio Science Saru. One of two award-winning movies he has released in 2017 (the other being Lu Over the Wall which took top prize at Annecy), this film is the very definition of the word exuberant in terms of story and style and should cement Yuasa as one of the best anime directors around. Here's my review!!!
The narrative is simple: A black haired girl (voiced by the ubiquitous and super-talented Kana Hanazawa) is attending the wedding reception of a friend. As far as she is concerned, the party doesn't have to end there and she walks around the streets of Kyoto at night from the alleyways and izakayas of Pontocho to the university campus, following the Komagawa river and making detours along the way. She is pursued by a male admirer, Sempai (voiced by the musician Gen Hoshino who also played the hapless lover in Why Don't You Play in Hell?), who tries to catch her attention by appearing before her as often as possible. As this rather one-sided romantic dance unfolds, they experience surreal magical-realist moments that grow increasingly absurd thanks to a cast of unique characters, all of which tests Sempai's resolve in love and the girl's capacity for drink and fun because all the while, everyone keeps drinking and having a good time.
Screening in the Bright Future category are a selection of Japanese films. The films here are part of "IFFR's programme dedicated to young and emerging film talent with their own style and vision, often presenting their films for the first time to the international film scene."
Running Time: 93 mins.
Release Date: 2018
Director:  Akira Ikeda
Writer: N/A
Starring: Kujirako Sumii, Hirofumi Shiba, Michi Ota, Syu Ono, Natsu Miyamoto, Tomoki Kimura, Reika Miwa, Sakae Tomomatsu,
Akira Ikeda directed Anatomy of a Paper Clip (2013) which won the Dragon & Tiger Award at Vancouver International Film Festival and the Grand Prize of Tiger Award at Rotterdam International Film Festival. He's back at Rotterdam with this film which was at the Tokyo International Film Festival last year.
Synopsis: A woman named Konoko wakes up on the beach and finds she has an insect stuck on her head. Unable to get if off, she looks for a barber. Meanwhile, Doi, a father to be, wants to make a pair of gloves for his wife as a gift, Kazuko who has gone missing. Much like Konoko, she wakes up in a strange place, a theatre, and goes home where she finds a blue monster. She goes to a shop to get rid of the monster. A strange drama drama unfolds amidst ordinary scenery in this magical and mysterious fantasy by Akira Ikeda.
枝葉のこと 「Edaha no koto」
Running Time: 114 mins.
Director:  Ryutaro Ninomiya
Writer: Ryutaro Ninomiya (Screenplay),
Starring: Ryutaro Ninomiya, Yuki Hirose, Tomoki Kimura, Yuki Miyoshi, Yasumi Yajima, Tetsuo Ninomiya, Daiki Matsumoto,
Indie director Ryutaro Ninomiya's film, The Charm of Others was at the International Film Festival Rotterdam 2013. He's back with his sophomore film that stars himself and Shinji Imaoka, the famous pink film director. This was at the Locarno Film Festival and Vancouver International Film Festival last year. This film is somewhat autobiographical for the director who shot it in the places he has lived. 
Synopsis: Ryutaro is a 27-year-old guy who works as a mechanic in a garage in Yokohama. He's confident if he is stuck in his routine of drinking with friends, but there's something eating away at him. We follow his life over a single weekend when he breaks his routine and hooks up with a waitress and spends time meeting Ryuko, the mother of an old friend, who was a surrogate mother after his own passed away. She has fallen gravely ill and does not have much time left… 
There are two films from indie director Yohei Suzuki and both look special but there's little information on them outside of the festival. I'll update things when information is made available:
Director/writer: Yohei Suzuki
Starring: N/A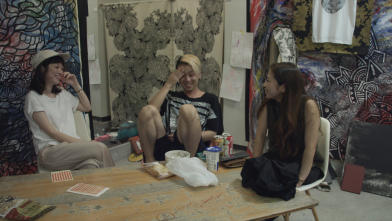 Synopsis from the festival site: Local artist Qualia enjoys greeting his friends who visit the exhibition of his paintings in rural city Mito. When his exhibition comes to a close, he finds it difficult to leave. Suzuki Yohei's deadpan oddity captures the awkwardness of social interactions.
Director/writer: Yohei Suzuki
Starring: Elisa Yanagi, Hirota Tomono, Kaoru Iida, Shota Koizumi
This one is in the Bright Future section but screens with the above title, After the Exhibition.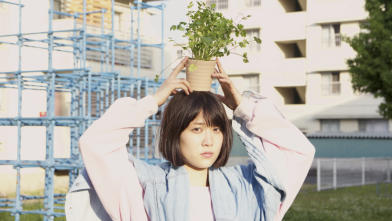 Synopsis from the festival site: Somewhere between deadpan and plain weird, Suzuki Yohei's unique brand of satirical comedy returns with the mysteriously titled YEAH. A young woman, Ako, wanders around a sparsely populated housing estate in the rural city of Mito, where she spends her time speaking to objects and plants. She slips in and out of the conscious world.
To those who encounter her, Ako appears to have psychiatric issues; to her, everybody simply misunderstands her. The film is situated in a housing estate that symbolises the prosperity of Japan's recent past, while its dilapidation represents the nation's failed present. In this politically charged setting, Suzuki asks us to consider whether his countrymen are Ako, whose apparently aimless pursuit is still one that is committed, or if they are the ones obstructing her path.
Bright Future Shorts is where "experimental short films and features the sound//vision programme, with live A/V performances" are gathered. This is where we see more international premieres with Wrong Revision (Dir: Araki Yu, 16 mins. 2018)
Synopsis from the festival: Based on Akutagawa Ryunosuke's short story The Devil and Tobacco (1916), the film introduces a curious account of the devil's introduction to Japan with St. Xavier in 1549, and how the devil transformed himself into an octopus (or devil fish) to eventually oppress Japanese Christians in the 17th century.
Another short in this section is Towards Hands (Dir: Usuha Ryoya, 7 mins. 2016), a CG film where viewers puzzle over people who fight and fall to protect a certain object.
Mountain Plain Mountain (Dirs: Araki Yu, Daniel Jacoby, 21 mins. 2018) plays in the Ammodo Tiger Short Competition.
Synopsis: In this documentary, the idiosyncratic sounds and rhythms of Ban'ei, a rare kind of draft horse race that takes place only in Obihiro, Japan, is captured as audiences see the behind-the-scenes operations of the race. "The film gradually twists itself into a knot as the excited voices of the commentators merge into a frenzy of gibberish."
Another one in this particular competition is Momentum 142310 (Dir: Manuel Knapp, 15 mins. 2018), an Austrian-Japanese co-production and the first part in a new series of computer animations where spaces refracted by textures are all projected. "Their temporality and after-images can be seen within a framework of 30fps by switching between two states of spatial folding. The camera has the task of following these events and is hovering through the architecture in an interplay with the randomly moving light source."
In the Deep Focus part of the programme, where social issues are investigated, we see a veteran filmmakers make an appearance in the Signatures Section.
花筐 「Hanagatami」
Running Time: 169 mins.
Release Date: December 16th, 2017
Director:  Nobuhiko Obayashi
Writer: Nobuhiko Obayashi, Chiho Katsura(Screenplay),
Starring: Shunsuke Kubozuka, Shinnosuke Mitsushima, Keishi Nagatsuka, Tokio Emoto, Mugi Kadowaki, Yuriko Oo, Tetsuya Takeda, Takako Tokiwa, Hirona Yamazaki,
Hanagatami is the latest film from veteran director Nobuhiko Obayashi, probably best known in the West for his 70s horror-musical House. This was at the Tokyo International Film Festival where it got a myriad of reviews praising its vision and uniqueness (Japan Times, for example) and anti-war message. Rotterdam's writers state:
"In what may be his last film after a career spanning almost sixty years, Obayashi Nobuhiko, the famed cult director of Hausu (1977), hasn't shed any of his youthful style of charming exuberance in this period drama set on the eve of World War II. Quick zooms, rapid-fire cuts and a flicker of sumptuous colours create a rollercoaster ride through a frenzied historical moment that Japan usually prefers to forget."
People who see it tend to be wowed, so make this one a selection.
Synopsis: It is the spring of 1941 and the setting is Karatsu City, Saga Prefecture. 17-year-old Toshihiko Sakakiyama (Shunsuke Kubozuka), who has just returned from Amsterdam where his parents are living, to live with his wealthy aunt Keiko (Takako Tokiwa) and attend the local boys' high school. He lives life to the full with dinner parties and picnics, frolicking in the country and partying in the city. He does this with a close group of friends including a cousin named Mina who suffers from lung disease but the war is drawing closer and their lives will be changed forever… 
光 「Hikari」
Running Time: 129 mins.
Release Date: May 27th , 2017
Director: Naomi Kawase
Writer: Naomi Kawase (Screenplay),
Starring: Masatoshi Nagase, Ayame Misaki, Tatsuya Fuji, Chihiro Ohtsuka, Kazuko Shirakawa, Saori Koide, Nobumitsu Onishi, Mantaro Koichi,
This one is about dealing with existential loss and investigates the topic through the prism of characters affected by blindness and dementia. It has toured around the world and won a myriad of great reviews. I like that the focus is on Audio-Description writing.
Synopsis: Masaya Nakamori (Masatoshi Nagase) is a genius photographer. He meets Misako Ozaki (Ayame Misaki), a woman who is involved in a voice acting project for the visually impaired. The two initially don't get on because Masaya has a cold attitude but when Misako sees a photograph of a sunset shot by him, she is inspired to look into Masaya's life and discovers that he is losing his sight and their relationship changes.
There are a number of Japanese films featured in the Voices programme of the festival where filmmakers with a distinctive perspective and confident voice are gathered.
アウトレイジ 最終章 「Autoreiji Saishusho」
Running Time: 104 mins.
Release Date: October 07th, 2017
Director:  Takashi Kitano
Writer: Takeshi Kitano (Screenplay),
Starring: Takeshi Kitano, Nao Omori, Pierre Taki, Toshiyuki Nishida, Ken Mitsuishi, Hakuryu, Ren Osugi, Hiroyuki Ikeuchi, Yutaka Matsushige
Kitano returns with the third in his yakuza trilogy Outrage. There's plenty of gangster politics and action. Expect more of what the last two films offered.
"…though it ramps up to an enjoyably definitive ending (impressive given that the series' ultimate moral, about the cyclical futility of the yakuza lifestyle, means it could easily be reset for another go-round) the final outrage of this final 'Outrage' might just be how little real outrage there is within a constant, repetitive coda." Jessica Kiang (Variety)
Synopsis: Otomo (Kitano) escaped Japan and his old Sanno-kai yakuza group after countless betrayals and gang wars and prison. He joined up with a South Korean gangster named Jang but he finds himself travelling back to Japan when a member of the Hanabishi-kai yakuza group named Hanada (Taki) kills a member of Jang's gang and he has to settle some accounts. Otomo decides to reunite with his old clan and get revenge on the people who put him in prison at the end of the first film and he's going to use his Korean connections to get the job done…
Running Time: 87 mins.
Director:  Aaron McCann, Dominic Pearce
Writers: Aaron McCann, Dominic Pearce
Starring: Toshi Okuzaki, Masa Yamaguchi, Mayu Iwasaki, Kuni Hashimoto, Izumi Woods, Yoji Tatsuta, Guitar Wolf,
This one is an Australian-Japanese co-production, a mockumentary which takes all the exaggerated features Westerners imagine trashy Japanese television having.
Synopsis: Some time in the 90's there was once a samurai detective series with a main character who kills monsters while trying to avenge his dead mother. It was monumentally bad in all the ways it matters – acting, editing, cinematography, subtitling, translating. It proved to be a cult hit in Australia. Now, a documentary film team investigates what happened to the people behind it including the lead actor who ended up in jail…
飢えたライオン 「Ueta Raion」
Running Time: 78 mins.
Release Date: N/A
Director:  Takaomi Ogata
Writer: Takaomi Ogata, Fujio Ikeda (Screenplay)
Starring: Urara Matsubayashi, Atomu Mizuishi, Mariko Tsutsui,
Takaomi Ogata has been around since the early 2010s and he has always dealt with tough social issues. I watched three of his early feature films but only reviewed one, Sunk Into the Womb, a brutal story of a woman who abandons her children. This one has a story that looks equally harrowing since it portrays an innocent person having their reputation murdered by the media, the lies and scandals that people mindlessly consume. It was at the Tokyo International Film Festival last year and has been good enough to be picked for a European festival.
Synopsis: When Hitomi's homeroom tutor is taken away by the police for suspected child prostitution and child pornography she has no idea that her life will also be affected. A sex video is leaked and a rumour starts that Hitomi is the girl in the video. It's all a lie, but it spreads like wildfire and Hitomi kills herself. This is griss for the scandal mill that is the media and reporting intensifies, creating a false image of Hitomi.
Screening under the Regained section, where recently restored works which have been given a new lease of life by distros around the world are shown, the list includes features, shorts, documentaries, and experimental titles. The next film comes from Toshio Matsumoto who was a master of those forms.
薔薇の葬列 「Bara no Souretsu」
Running Time: 105 mins.
Release Date: September 13th, 1969
Director: Toshio Matsumoto
Writer: Toshio Matsumoto (Screenplay)
Starring: Peter, Osamu Ogasawara, Yoshio Tsuchiya, Emiko Azuma,
Synopsis from the festival site:
Capturing the fervour of 1960s counterculture in Shinjuku, Tokyo, this representative Japanese queer film is delightfully chaotic. Bar Genet's new star hostess is the transgender icon Eddie, whose confidence and sexuality threaten the bar's long-time madame Leda, but attract Gonda, the bar's owner. While Eddie becomes entangled in this love triangle, she spends her time with joint-smoking drop-outs, watches experimental films, dances to distorted rock music and occasionally gets involved in protests. Matsumoto described the film's structure and form as like dropping a mirror on the floor and picking up the broken pieces.
With the screening of this new 4K digital restoration of the film, made from the original 35mm negative, we celebrate the life of its director, Matsumoto Toshio. Having recently passed away, his influence on Japanese documentary film, experimental film and film criticism remains deeply felt.
As well as these productions, there's an American indie title called August at Akiko's (Dir: Christopher Makoto Yogi, 75 mins. 2018) which is all about an aimless musician meeting an older woman who takes him under her wing and the two form a cool relationship as he listens to her and learns from her.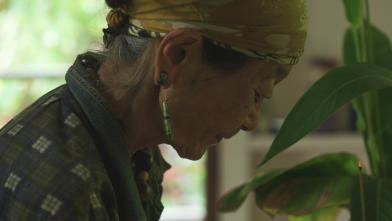 That's it for this year's festival as far as I can tell. I'll update things if new information becomes available. Here is coverage of past festivals:
Rotterdam 2013         Part One       /      Part Two
I hope this helps you discover some great films! Take care!